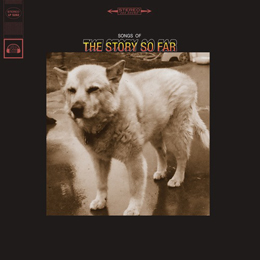 Album Title:
The Songs Of The Story So Far
Hailing from Walnut Creek (located some 26km East of the city of Oakland in the East Bay region of the San Francisco Bay Area), this Pop Punk band was founded in 2007 with singer Parker Cannon, guitarists Kevin Ambrose and Kevin Geyer (the latter also taking care of backing vocals), bassist Kelen Capener and drummer Ryan Torf recording & self-releasing their debut EP 5 Songs that same year. The following year the band came up with the simply-titled 2008 EP.
The latter may have been (failing sufficient info I can only make assumptions now, right?) the incentive for the Pure Noise label to sign the band for the release of their 2011 debut album Under Soil And Dirt. I'm not certain of the course of events at any rate, because prior to that debut full-length's release, the band still released a a song entitled "While You Weere Sleeping", a split with Maker, and parted ways with Ambrose, replacing him with current second guitarist William Levy. 't Has to be said that, during 2011 and 2012, the band also had some more trouble with their line-up, with both Capener and Torf temporarily stepping out (perhaps to get a degree?). During that time, one Morgan Foster took over live bass duties, and on the drum the band made use of Ryan Justice during most of 2011, with Cameron Macbain taking over until Torf came back to his old place. 2011 was also the year where the band released a split EP with Morgan Foster, and the additional EP's 5 PM and Really Cap. They also released a previously unreleased cover of a Jawbreaker song.
The latter part of 2012 was a specially successful period for the band, as it saw them perform in Europe on both the Road To Warped Tour (several dates) and the Warped Tour itself (just the one show), as well as joining New Found Glory's statewide Stick And Stones 10th Anniversary Tour (late Nov. - mid of Dec.). 2013 came with a flattering start as well, as the band traveled to Australia for a short tour during January. They also went on their own The Suppy Nation Tour, playing a month's worth of shows in the US from early March to the middle of April. Again, failing proper info, I can only assume that tour was in promotion of the band's sophomore album, What You Don't See (went up to position #46 in the Billboard 200 charts). Because that same year the band also released a split with Stick To Your Guns. The band also performed on the Slam Dunk 3013 festival, and this time tagged along with the Warped Tour for the total duration of it in the US (mid June to early August). In early 2014 (late jan. to mid Feb.), the band tagged along with A Day To Remember, Mallory Knox and Everytime I Die for a UK/ Europe tour, and from mid June to early August they again traveled throughout the US on the 2014 edition of the Warped Tour, playing on its main stage! More US dates are being done at this very moment, the band supporting The Wonder Years on their Fall Tour 2014 (alongside Modern Baseball and Gnarlwolves) until Halloween (Oct. 31).
In June of last, the band released a new 5-track EP, with acoustic versions of three songs ("The Glass", "All Wrong", and "Bad Luck") off their most recent full-length, an unrecognizable cover of Bob Marley's "Waiting In Vain" (which doés have – surely now – an electric guitar solo!?), and a song entitled "Navy Blues", which I simply cannot place! Now this kind of thing has been seen before (Pop Punk bands releasing acoustic EPs that is), and I've never been particularly entranced by stuff released through other bands! To me, it's all just another trick to add some "ballads" to the set anyway, and an effort to woo the female teenager fans (to increase the band members' chance on "getting lucky"!), and further commercialize the band's music. Not being familiar with the band's "normal" material, I cannot even start to compare (I mean, now really...does one expect to go thàt far in my research on a band as to put extra time in that kind of thing, when my research time is as limited as it is, and there's so many albums still needing to be reviewed?) anyway! In conclusion : not really my thing, this!
Oh, by the way, for those who àre interested: the EP will not only be available as digital download and CD, but will also be distributed as a 10-inch vinyl! Go 'n' get it while you still can (because it's probably a limited edition, right?).