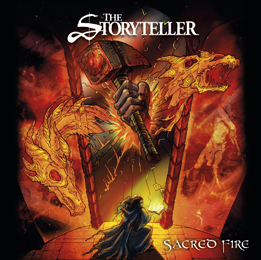 Release Date:
Friday, February 27, 2015
The Storyteller  is a Swedish band that was formed in the city of Gävle in 1995.  They released their debut album 'The Storyteller' in 2000.  This is their sixth album so far. I'd never heard of this band before, so with some curiosity, due to their name, I started listening to this album.  What I heard was traditional power metal, but with epic elements in it, The bio suggests there are also some medieval folk music influenced. But I had to use a lot of imagination to hear those influences…
Basically what you get here is a twelve to a dozen bands.  Nothing new, nothing spectacular. It's well played, but it lacks originality. What also has to be said is that frontman  L-G Personn has a very peculiar sound, you either hate or like his vocals I suppose.  My opinion is somewhere in between, it's not bad, but it's not fantastic either. I guess their next story will have to be a lot better if they want to draw my attention.