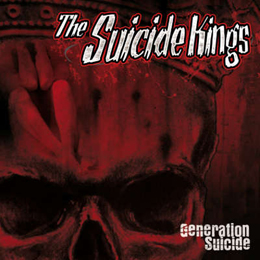 Release Date:
Friday, December 13, 2013
Those among you interested in this German Hardcore Punk act's history (which started at the beginning of 2005) might wanna check the review (posted somewhere in May 2011) I did for the band's previous album Menticide which, much to my personal surprise, got some very nice reviews from the likes of Rock Hard (gave the thing a 7,5/10 rating and a positive "Thumbs Up" - well, I also gave it that rating, for effort, and a definite "thumbs down", you know!) and EMP!
As the highlights of that year, the band was invited to perform at the Traffic Jam and Teich Open Air festivals. After a relatively quiet 2012, drummer Markus left for personal and professional reasons, and original drummer Chrisian Gaum was asked to rejoin...which he did. The band also went on the lookout for a new label, which was eventually found in February 2013 in the German IMM Records (IMM being short for Insane Metal Music). And so somewhere during Summer the band entered Chemical Burn Studios to record their fourth album album with Alexander Dietz and Eike Freese...
...who, in my eyes (huhuh...those 3 words also constitute the title of the very first song on the new album), have not been able to make the new album any more interesting than its predecessor! I mean, according to the band's facebook page, the music is so-called inspired by the likes of the Misfits, Anthrax, Good Riddance, Social Distortion, Rancid, Sodom and Bad Religion...but what you actually get are generally simple riff-based Hardcore Punk tunes with a slight Thrash touch. Sure, most of the songs have an overdub with an extra rhythm guitar and the rather uninspired short "solo" bits, but really this band for the most part sounds like an act whose members never touched an instrument but half a year ago! However, as is the case with many young bands, there's passing moments on this album which actually sound very good, in spite of my harsh criticism (check, if you can, the track "Feed" - I mean, if all of the 10 songs here had such good ideas, musically speaking, the album wouldn't be bad at all).
But, as I said with that previous album, do not take my words at face value! I mean, my opinion or taste in music may differ quite considerably from yours, and if you're into speedy riff-based Hardcore Punk (with accordingly fitting vocals), I urge you to, by all means, check out this band's music before making up your mind. To do that, surf to (www.) facebook.com/thesuicidekings, or the band's own (www) suicidekings.de!