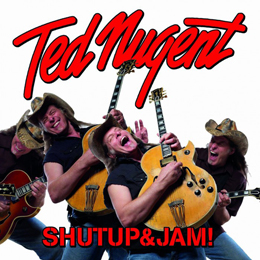 Ted Nugent, American to the bitter end, the personification of the redneck, conservative to the bone, an advocate of hunting and gun ownership, anti drugs and anti alcohol, strictly catholic…  Much can be said about this man, besides his musical skills. He became known as lead guitarist of the Amboy Dukes in the sixties, before embarking on a solo career in the seventies.
Despite a career spanning almost five decades, this new album is only his 14th studio album.  His previous album 'Love Grenade' was released seven years ago.  Despite not being that prolific in bringing out new records, he's on the contrary very active on stage, still playing over 200 gigs a year, mostly in his home country.
What can be said about this album  ?  He's still a very good guitar player, wielding his Gibson Byrdland like he used to in the old days.  Textually you don't have to expect some highly spiritual lyrics. It's all about real life stuff, take for instance the title 'I Love My Bbq', where he sings "Tofu just might kill you…", and a few phrases further along "I like to kill'em and grill'em… There's also a track on this album where none other than Sammy Hagar is special guest and does some of the vocals.  Conclusion : if you're into no-nonsens, straight forward hard rock, with simple and catchy lyrics, this is an album for you.