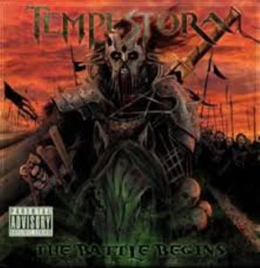 Release Date:
Monday, September 16, 2013
There is a very good description of this British Thrash Metal trio's music at both the label's and the band's own ((www.) facebook.com/Tempestora) websites, which goes as follows : "Tempestory is a British Heavy Metal/ Thrash band from Gloucestershire, UK, which started writing material under the influence of classic Thrash bands such as Megadeth, Metallica, Slayer, Testament in 2009. Although clearly influenced by the speed of Thrash Metal, Tempestora's sound relies a lot on being aggressive and technical, but never forgetting about melody..."! A very well-put statement, indeed...
The founding members (Sam Shiers on bass and vocals, Jason Deakins on guitar and Alex Hawes on the drums) indeed play songs which are in the first place typified by their high pace (only very rarely do the guys take back on the throttle, as in the opening passage of the track "Sanity Deprived"), but which nevertheless always have a good feel for melody as well, thanks to inventive breaks and solos on the guitar. It's a pity that Shiers' screamed vocals are a bit unilateral, because some vocal diversity would indeed benefit the band's material a lot! But, let's not be misers, and return to a little history of the band.
Founded in 2009 (? - one of my info sources actually puts the formation of the band back to 2005!), the trio self-released a 4-track self-titled EP (also known as the A New Age Dawns EP) in 2010, which already attracted the attention of Casket Music a short time after its release. Having already done some real heavy gigging (and making a positive live reputation on the way), the guys entered the 2010 Bloodstock Metal For The Masses competition in Wales (the band's hometown Gloucester almost borders to that county), became winners, and therefore played at Bloodstock Festival 2010, allowing the band to play on the same stage as internationally well-known acts such as Children Of Bodom, Devin Townsend, and Evile! In March of 2012, the band joined forces with Serrated Edge Productions's Craig Daws, to start tracking material at Swindon's Gatehouse Studios.
At the band's facebook page, you'll find a possibility to listen to 4 songs off the album (actually, "Relentless" and "A New Age Dawns" were already featured on the 2010 EP, and I'm not sure as to which version was posted) in the "Band Profile" section, as well view as 7 videos. The band also has a page on ReverbNation (links on facebook, but info & audio/video is same) and MySpace (which I have not been able to check due to recent updates of the site).