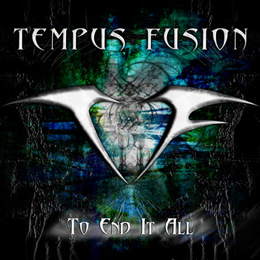 The music the progressive metal guys of Tempus Fusion put forward can easily be described as some of the biggest recent/new progressive metal I've heard in a while. It's British progressive metal with clear stress on the power element. The production of To End It All is majorly polished and every single instrument is used in an innovative way. It's all incredibly powerful and this entire album sounds very harmonic, definitely in the vocal parts..
The guys of Tempus Fusion definitely know how great riffs and melodies are written. Song writing has been pulled to a true extent on this album. This is in fact clearly on display when taking a closer look at melody, arrangement and dynamics.
The British isles have now for quite some time been the cradle of a vast amount of high-quality music and there's no reason why that shouldn't continue. In Tempus Fusion we have a band with lots of potential, so do yourself a favour and give To End It All some serious listening time. You'll like what you hear. They will surely not end it all after this precious record.