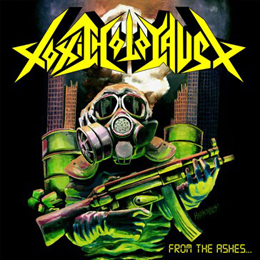 Album Title:
From The Ashes of Nuclear Destruction
Toxic Holocaust mutated into existence in 1999, when Joel Grind merged his love for classic punk and metal into his ideal band. Like his influences - Bathory, Venom, English Dogs, Possessed, Broken Bones – TH featured blazing riffs, gravel-throated vocals, and a deadly fixation on the evil in man and a post-apocalyptic world. Grind wrapped all of these elements up with a DIY attitude and begin writing and recording material almost instantly.
From The Ashes of Nuclear Destruction is compiled of singles and rarities, such as demo versions from studio albums and rare singles from the various split albums they've released. While the music comes across brutal for all to hear, Toxic Holocaust still lacks something. Musically the outcome is not too bad, just quite unsurprising to say the least. While it may be difficult to point out any blatantly copied elements, you cannot avoid a recurring sense of déja-vu every now and then This is thrash metal with 'cause all of you are fucked'-influences taken to the extreme and convincing if somewhat indistinctive on the whole.
I must confess that I can't see myself dumping this into my cd player too often.