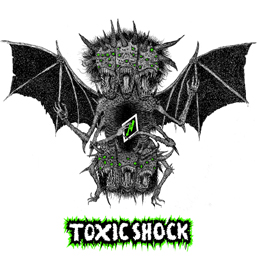 Hey, seems like this bandname has had quite some popularity with Thrash Metal acts in the past (era late '80s – early '90s) with no less than 3 acts known by that name having recorded material for posterity. From Germany (the Eislingen/ Baden-Würtemberg area) came a band which released 3 full-length albums between 1988 to 1992 (with 2 demos prior), and in the US there were twó bands, one from West Mystic (Connecticut) which left us a 1989 EP, and one from NYCity (and members of Tampa, Florida) which produced 5 demos between 1988 and 1992. But all of these split up in the early '90s, and are now part of history. On more recent terms, and still "history in the making", there's a band from Portsmouth (UK) founded in April 2010 which, just to make a difference, plays Hard Rock music, but apparently hasn't released anything yet.
But the Toxic Shock we're dealing with here is an Antwerp based Belgian band, whose current line-up includes DK, Wotte, Wally, White and PC (no full names mentioned anywhere in my info sources, nor their functions in the band, except for Wally being the singer), and which has precedence over the latter, as it was apparently founded in 2004. Their music is also closer to the first three bands mentioned in this review, as they bring a Thrash Metal/ Hardcore Crossover hybrid with melodic overtones, and this has allowed them to play support shows to musically alike bands such as Ceremony, D.R.I., Sheer Terror, and Black Breath, and Municipal Waste in the past. Thus far, the band has released a self-titled 4-track demo in 2011, a self-titled 4-track EP (with different songs, issued through Mutiny Records?) in 2012, and are now coming along with their 10-track debut full-length (which is enhanced by the adding of both previous recordings, to make for an almost 50-minute whole).
For your introduction to the band's music, log onto their (www.) facebook.com/The.Toxic.Shock (or, check what's available on BandCamp – I think it was the EP I saw posted there!). Of course, 30-second samples o all album tracks are available at the album's iTunes page! Check the spoken word version of "I Shot Joe Biden" against the song or, find out how a recorded interview text can find its way into a Thrash/Hardcore Crossover band's lyrics! Also, check out the band's version of Uncle Slam's "The Ugly Dude". Great stuff this...takes me back mentally to a time when things were quite different.