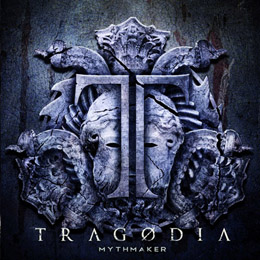 This Italian band should not be an unknown entity in the Gothic Metal community, as the Brescia (North of Italy, West of the Lago di Garda – Garda Lake – roughly in the middle between Milano and Verona) based Epic/ Progressive band has been about since 1996!
Granted, the band's output isn't exactly huge (6-track demo Dramas In Splendent Realms issued in 1998, 5-track demo All Our Memories in 2002, and full-lengths The Promethean Legacy and Theomancy issued in 2007 and 2012 respectively through the Dark Balance and My Graveyard Productions labels), and that might be in part due to the fact that the line-up has gone through several changes over the years, with only Francesco Lupi (guitars/ backing vocals & keyboards since 2007) and Daniele Valseriati (drums – also active in Industrial Death/ Thrash Metal act 49 Hydrogen Device and two-man Atmospheric Black Metal project Ogen) remaining as formative members. The way I see things, the band has had two pivotal years, the first being 2007, when the original keyboardist and singer leave, along with the second guitarist (whom had joined the band in 1998). Lupi took on the extra task of keyboardist, and a new guitarist was recruited in the form of Riccardo Tonoli (formerly of Symphonic Death Metal act Blathe). On lead vocals enter Carlo Beliani and Valentina Turati, but they both leave in 2008, the first to be exchanged almost immediately for Stefano Roncadori. But 2009 brought new changes, and so enter current lead singer Luca Meloni, and female singer Tamara Basile...but the latter left a year later, when current bassist Luca Paderno came into the band to give it its current stability.
The new album is said to be a new episode for the band, and sees the quintet striking back harder than on its predecessor. And with their combination of Prog Metal with Epic tendencies now infused with some "Modern Metal" elements (let's say some of the guys have pushed through their former Death Metal influences) the new album puts the band on a par with many of the better acts contemporary Heavy Metal. Graced with rather diverse vocals, which finds the "backing" singer in several modes : either as backing singer bringing harmonic clean or contrasting rough embellishments, or as occasional (rough singing) lead vocalist, with the "lead" singer backing him up with his epically powerful and clean singing style. Mythmaker is one of those albums which needs time for one to savour completely though...in other words, the more experienced music lover (such as, honesty prevails, yours truly) will find him/herself going back to the "play" button on the cd-player several times, before setting the album aside with a contended smile on one's face, and step over to the next one (as, you know, is quite common in music journalism).
The band has pages on twitter, YouTube (mainly "older" videos), and facebook (only containing music of "older" material), and although I guess (I admit to not actually having checked) the material off the band's previous album is at least in some ways comparable to the current one (at least, the band is in the same line-up), by all means look up the album's page at one of your trusted online sales sites (I'm certain that Amazon at least carries the album) for 30-second samples of all of the album's 11 tracks, as a means of comparison. If you're into truly Epic Heavy Metal music with elements of Prog, Goth, and Death, you're gonna love what you hear.