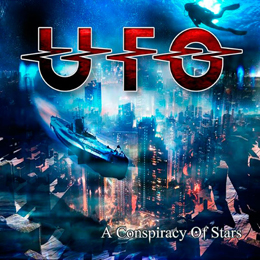 Release Date:
Monday, February 23, 2015
There aren't that many bands around that can say that they exist since over 40 years, and still contain some of the original band members.  UFO  though is one of these bands, where original vocalist Phil Mogg and drummer Andy Parker are still present in their line-up. 
This is the 21st studio album in this bands career.  The time when they wrote hits like 'Doctor Doctor' lies long behind them, but still these veterans keep on bringing out quality albums. This album is no exception to that.  It does not contain hits, but all songs are of a decent quality.  Despite his age – Phil Mogg  is at this time 67 years old,  his age doesn't really shine through in his vocal performance.
The old(er) UFO will of course buy this album, I doubt the younger generation will though, although exceptions are always possible.  This is not an album/band that thrives on commercial easily swallowed songs, nor on over complicated, technical songs, but brings decent quality slightly blues influenced hard rock, a genre that is mostly, if not totally ignored nowadays, which means that except of the old dinosaurs like me, who've grown up with bands like these, the youths of nowadays have almost no chance to acquaint themselves with this genre of music.
Keep on going lads, even if the hits are not there, the music stays good !