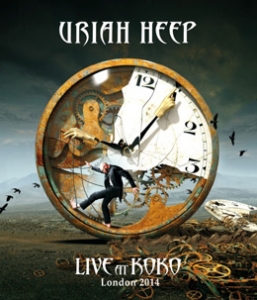 Release Date:
Friday, February 20, 2015
My guess is, lots of visitors of this website weren't even born when this band started out. After all, Uriah Heep have been around for over 4 decades, and should be named as one of the founding fathers of our beloved music genre, together with Black Sabbath, Deep Purple and Led Zeppelin. And after all these years, the Heep still continue bringing out new albums, and relentlessly touring the earth.
Of course of the original line-up, only one member, guitarist Mick Box is still present, but do not forget that Bernie Shaw who replaced original vocalist David Byron came into the band in 1986, just like Phil Lanzon, the keyboard player, who replaced Ken Hensley.
While their new albums are not bad, I have a preference for their older material.  Songs like 'Gypsy'; 'July Morning' I prefer above their recent material, but that maybe has to do with the fact that I'm more familial with those songs.
I cannot tell anything about the DVD, I only received the double CD to review, which contains a collection of older songs, let's call them classics, and some more recent work.  It was recorded live during a show at London's Koko in 2014.  Despite the fact that this band has been around for so long, what these guys bring us here is bristling with energy.  And, something I'd not heard since a long time besides with this band maybe is the prolific use of a wah wah box.  Mick Box, if you ask me, is a seriously underrated guitarist.  Just listen to 'Box Wah Box' and you'll understand what I mean.