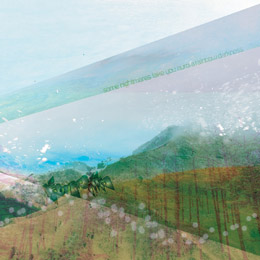 Album Title:
Some Nightmares Take You Aurora Rainbow Darkness
My goodness! Even though this Osaka based Japanese outfit only released its debut EP in 2009, and can therefore still be seen as a relatively young band, I'm still wondering slightly why I'd never heard of this wacky collective before!
Collective? Yeah...besides founding member Yoshikawa Toyohito (now a former member of Experimental Noise Rock outfit Boredoms), the band counts no less than 12 core members, including three singers (one of them Toyohito himself, another one being one of two drummers, the third - one of the several guitarists in the band – taking care of the truly beautiful female side of the vocals and goin' under the assumed name of Velladon, and a fourth member whom also plays guitar and synths, occasionally bringing a rapped vocal contribution). There's no less than 5 guitarists in the core line-up (two of which already mentioned, another named Joshua Lozano, and two more of whom I could not read the Japanese names n the band's website), which however does not mean that those are active all the time...and to complete the band's musicial interests from the other side of the "spectrum", there's also a cellist, a pianist, and a violinist (the latter named Rei Miyaoto). Completing the line-up is the usually weird-looking bassist/ dancer Micci, and a second drummer (which is either Tatsuya Yoshida of the well-known Noise duo Ruins, or "Tallow The Tornado" from Hardcore act Nice View – I was quite unable to decipher the info at (www.) vampilla.com, and the translation via Bing was actually no better).
Founded in 2005, Vampillia found its first year of existence to be quite unfruitful, as internal struggles among the band's then 10 members in fact kept the band from doin' anything positive within the rehearsal room. Toyohito however persevered, molded some of the people at hand, recruited other ones to replace those who would not do, and as a result the band did its first show somewhere in 2006. By pure chance, Anniman Collective producer Rusty Santos was a witness to one of those first shows and, having fallen in love with what the band did, decided there and then that he was to sit behind the knobs when Vampillia would make its first recordings. And so he did, but due to the band members' inexperience, the recordings become somewhat of a flop, being harassed by trouble upon trouble, and in the end the recordings only get half done, and they are therefore temporarily shelved.
2008 find the collective in some luck, being enabled to perform outside their native country, touring New York state with fellow Japanese artist Tujiko Noriko, and in 2009 an Australian tour finds the band play at sold-out venues. The 8-track mini-album sppear is eventually released later that same year, in October, and a new Australian tour in 2010 again finds the band play at sold-out venues! Along the way, the band fraternizes with the world-known artists, which results in upcoming collaboration releases, the first of which (the 2-track Alchemic Heart, a collaboration Japanese Noise constructor Merzbow, Jarboe of Swans, and Inswarm) is released through US label Important Records on Jan. 25, 2011 (the item was, by the way, for the first time issued on 7-inch vinyl through the Temple Of Torturous label, this September of last). That same year, Vampillia participated to the SXSW festival in Austin, Texas, and then went on a New York tour with Jarboe, and a European mini-tour brings the collective to Iceland, Oslo, Belgium, and London (UK, where they sold out the venue). In June of that same year, the band self-releases the "double album" Rule The World-Deathtiny Land (featuring 2 x 24 tracks!).
In early 2012 the band is again found on the stages of the SXSW events, and a next collaboration EP, the 5-track The Primitive World, is done with Nadja, and released in June. But that's all I can tell about that year, except perhaps, that some further collaboration releases must certainly have been in the planning, say perhaps even been in the making...because 2013 becomes the year that Vampillia comes out with no less than 6 items. The are, in order of release date, Heffner Trombones Vol. 1 (a 3-track EP by the band, issued on May 3rd), Vampillia Meets µ-Zic (a one-track collaboration with µ-Zic, come to life for free download two days later), The Perfect World (a 6-track release through Important Records issued in August, which finds Vampillia collaborating again with Nadja – with whom they also tour Europe again that year), Endless Summer (a two-track collaboration with Tujiko Noriko, whom you might remember took the band out to New York for the first time – see above; issued in September), Circle (a one-track collaboration with Attlia Csihar of Sunn O))) and Mayhem fame, and Sole, formerly of anticon; released in October), and Die You Hard (a 2-track affair by the band, issued in November).
Upon their return to Japan, the collective must've been rather busy again, opening the year with yet another Nadja collaboration, which carries an unreadable title (but might be "translated as something resembling "impefection". April brought no less than twó releases, starting with the album The Divine Move (which was apparently licensed by Candllelight for distribution, at least, in Europe), seemingly a full-length collaboration thing with Nick Barr (krallice), bombs, and BiS. The second release is the lengthy-titled My Beautiful Twisted Nightmare In Aurora Rainbow Darkness, which was issued through Virgin Babylon Records in Japan. But that wasn't all for that year's recording activities, of course, as in June the band not only came along with White Silence (a one-track collaboration with Attila Csihar and Tujiko Noriko), but also with the album currently at hand. In spite of there being some resemblances in the album title, as well as in some of the song titles, I take it to be absolutely possible that the album is quite a different one from the just listed (My Twisted Nightmare...). If you thought that was the last of it, you better think again, for in August the band released the two-track You Should Go First, in September they celebrated the first release on 7-inch vinyl of their Alchemist Heart, and in November they released the 3-track EP Dusty Nail, on which a re-mix by fennesz was featured of Alchemist Heart's song "Sea".
Busy busters, uh? Well, as mentioned earlier (and that was almost 4 hours ago in the writing, while I was giving the album repeated listening sessions – again – and sorting out all the info), I'm flabbergasted at not having heard of this crazy outfit before! I mean, on the one side there's all those collaboration releases which should've put Vampillia in the frontlight (well...granted, those releases are but relatively young ones, and quite a few of 'm got but limited distribution...but nevertheless...), and on the other side, there's the band's rather eclectic and seemingly chaotic...oh my, I haven't lifted the veil on Vampillia's music yet, have I? Well, in the label's description, the band is an "experimental Pop-style brutal orchestra", using "...chaotic vocals, discordant guitars, beautiful piano, elaborate strings, unsettling noise and several powerful drum sounds...", which they harmonize into a sound which the band itself calls "beautiful chaos"! In "reality", nice neo-classical moments are alternated with "Rock", but a "Rock" which varies from kind fondling of an acoustic or barely distorted guitar, to actual Hard Rock lines, and to even harsher vicious Black Metal tonalities of the "Nordic" type, in which however frequently a progressive undertone is present as well! The vocals kind of follow suit, varying from being classically minded (the female singer excelling there, and the guys occasionally following suit in a Pop-style!), to normal clean, and from there to harsh and brutal grunts. But there's more than just alternations between the genres, because throughout the album, you'll find a presence of that beautifully played piano, and frequently the strings will add to the frey during the harsher passages as well! And what with two drummers being present, those harsher moments have a tendency to being somewhat chaotic. Still, what with the calmer and more harmonic moments in between, one cannot but being unavoidably attracted to the whole! A couple of songs have, except for the drums, almost no "modern" instrumentation, these including "Dream" with its vocal babbling, and the album closing "Kizuna" which features the beautiful voice of Jarboe!
Now I've searched the Internet for places with music off this album, and the only one found is Bandcamp (I'm not even sure there's a possibility to listen to the individual album tracks, but at least there's a link there to view a video of the incredible "The Volcano Song" - a passage on the bass of which has been haunting my mind for weeks now, due to its unparallelled effective catchiness). Of course, I didn't check, but possibly you , can listen to the other songs as well. If that's the case, I hope you'll give Vampillia the time needed, for if the band's music can be called one thing, it's not "easy-listening"! However, I can ascertain you that, once you've given the album a couple of listening sessions, you will relish each and every further one! If the Bandcamp site does nót provide extra music, go the band's own (www.) vampillia.com (a site mainly in Japanese), where in the "A:Vroom" section you'll find both audio possibility (via SoundCloud) and video for several tracks by the band, none of which off the latest album. Additional (older) tracks can be found at the band's facebook page, and two videos are posted on the band's page at (www.) spirit-of-metal.com/Vampillia...go check it out, and enjoy!
I do hope the editor-in-chief thinks of me to review any future releases by this band, and in the meantime I'll conclude this rather lengthy article (which I started yesterday!) by adding the album to my 2014 year-lists!