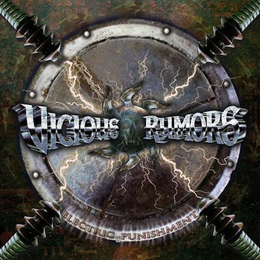 The American band is Vicious Rumors is back with their eleventh album. … After a long, strenuous and succesfull world tour in 2011.
In a way, "Electric Punishment" sounds pretty similarly to his former, "Razorback Killers", demonstrating the band their fast track will to return to their golden age., Brian Allen has been much more convincing while augmenting so considerably with his relatively diverse voice (It has been a while since the band had a melodic vocalist.) What can I say: nothing could outlast the deceased Carl Albert (R.I.P), but at least Brian seems to be the nearest of the ones that came before him.
As for the rest of the band and the material, I believe that it is best to describe the band's efforts, led by founder Geoff Thorpe and longstanding skin man Larry Howe. "Electric Punishment" sure sounds like the old Vicious Rumors back in the days, such as "D-Block", "Thirst for a Kill", "Dime Store Prophet" and "Black X List" are songs that remind me at their first period.
Vicious THRASH Rumors is back! Great album!