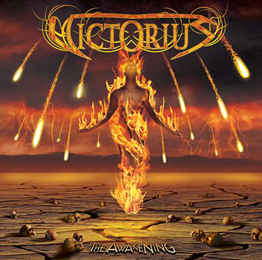 Victorius was founded in 2004 by Dirk, Steven and Andreas, who are big fans of speed and power metal. Front man David and drummer Rainer joined the band. As a result in the following years the band played many live gigs, especially in the Middle German area. The slogan was 'Power Metal is alive'! And from one thing came another and it al lead to the release of their first recording 'Unleash The Titans' in 2010.
After some changes on the drum seat in 2011 Victorius introduced Rene as worthy replacement for Rainer. With Rene on board the band was willing to gain new goals: 'The Awakening'. At the end of 2011 Victorius joined producer Lars Rettkowitz and entered the KR-Studios to forge new steel. The new Album is going to be released in June 2013.
And speed/power metal fans have something to look forward to. The album is a blast and reminds me of "Dragonforce". Wel ok, not that fast but just to give you an idea. But don't worry there is room for slower songs and even catchy melodies. Now this isn't for everyone, it is rather genre specific so if you want some heavier sounds, this isn't the one for you.