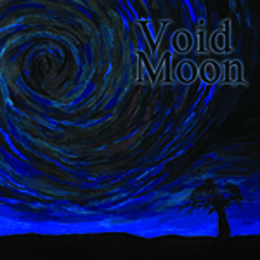 Album Title:
On The Blackest Of Nights
You're about to read the review of Void Moon's debut record "On The Blackest Of Nights. This Swedish band, formed in early 2009 by bassist Peter Svensson and vocalist/guitarist Jonas Gustavsson along with notorious drummer Thomas Hedlund (Cult Of Luna and many more) teamed up with Cruz Del Sur earlier. Before this one, the band released a self titled demo CD-R and a 7" EP called "Through The Gateway" in 2010 and a CD-R entitled "The Mourning Son" in 2011.
The full-length the band just released contains five new recorded versions of songs that earlier appeared one of the demo's and four new tracks of typical Swedish doom influenced by Candlemass, Black Sabbath or newer band like Grand Magus or Isole. It's slow, it's melodic and maybe a bit boring but nevertheless a true doom-adept will find a new band to like. Check out a song like "The Word And The Abyss" or "Through The Gateway" to find out Void Moon has really some potential. Hopefully the band gets the time to grow.