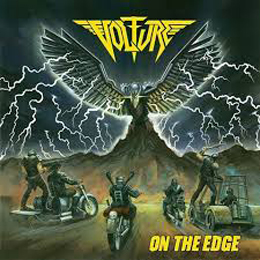 Release Date:
Friday, December 13, 2013
I was really surprised when I opened my mailbox and saw there was a new Volture album came my way. 2012 wasn't a easy year for the band around Ryan Waste (Municipal Waste) and guitarplayer Nick Poulos (Cannabis Corpse). Their label had to quit due some problems, their vocalist quitted after the European tour and after that tour there where only depts left. But now on the start of the new year fresh material is ready.
If you listen to it On the Edge it feels like you'e back in 1979 when the NWOBHM came out. This album won't became a classic like others did back in the days but fans of the genre have a new cool band now to check out.
Their new vocalist Jack Bauer has a cool voice and remind me at King Diamond type of voice. So it's not bad at all! But the coolest thing on this album is that every track on the album will remind you at one  classical song of bands like Iron Maiden / Judas Priest / Saxon!
Cool album to check out!