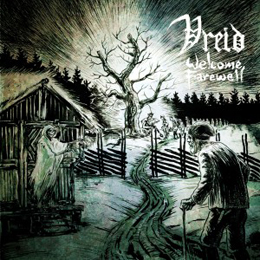 Release Date:
Tuesday, February 26, 2013
I have to admit that although the name Vreid was familiar to me, I have never even heard one song from this Norwegian black metal band and thus Welcome Farewell is my first venture into their world.
Welcome Farewell is heavily steeped in 80S/90s's death/black metal, which was a time when bands like Darkthrone, Bathory, Burzum and Celtic Frost were putting the genre on the map.The rasp and gravely vocals are thoroughly satisfying, the inclusion of melodious guitar solos do nothing but propel the music's interest, and the production marries the raw with the coherent. But perhaps the biggest success is how much the songs rape, kill as well as rock n' roll. Black Metal framework to be sure, but the music is arranged in a fashion that makes them on a song level appealing with driving thrashing grooves and engaging Entombed-like riffs. Production-wise there isn't much to complain about, as all the instruments can be heard loud and clear, and even the bass gets a chance to shine.
Not a bad track on the record, and though I can't compare this to older material that the band wrote, Welcome Farewell by itself is strong enough to be one of those outstanding black metal records for 2013.