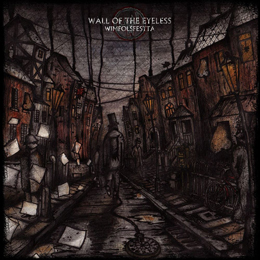 Having tried to form a band in his Russian hometown Pskov (situated not even 40 km from the Estonian border in a bird's eye, but roads failing one needs to drive some 60 km to get to the border on the A212 in a WSW direction out of the town), multi-instrumentalist SL moved to the vicinity of Göteborg, Sweden (Helsjon, to be precise – which is a good 35 km outside of Göteborg center in an ESE direction) where in late 2011 (and then at the age of 21), he happenstanced upon young drummer Simon (only 18 at the time). Within no time at all, the duo had recorded their self-produced debut demo Through Emptiness, displaying a nice multi-influenced Progressive Death Metal.
Releasing the demo at 2011's New Year's Eve, the 4-track affair got the duo some good and some great feedback, but more importantly, they found a way to up the ante on their next release, finding none other than Marduk's bassist Magnus "Devo" Andersson willing to act as producer and mixing engineer of the new material, which was recorded in 6 days of late January of last at Norrköping-region based Endarker Studios (host in the past to recordings from such established bands as Marduk, Funeral Mist, and Ragnarok, among others). The material was subsequently mastered by Jens Bogren at Örebro-area based Fascination Street Studios (from whence albums by he likes of Amon Amarth, Bloodbath, Katatonia, Opeth, Swallow The Sun, etc...were delivered upon the unsuspecting world) in February. Just to indicate how far from home the youngsters were, let me state that Norrköping is some 290 km from Helsjon in ENE direction, and that Örebro is that same distance, but in NE direction, and about 110 km NW from Norrköping.
However, musically speaking the lads were quite at home and in good company. "Progressive Death Metal" is indeed a tag used for ease, but there's several sub-genres recognizable in the band's music, including Doom and Thrash, and SL is confident enough to use both grave and normal singing voices, as well as the occasional acoustic guitar. His solos are well placed and original, as are the compositions...something which you will be able to discover for yourselves by checking out the band's music at Bandcamp. The guys also have pages at facebook (find Bandcamp link here!), Last.fm, MySpace, ReverbNation, SoundCloud, Vkontakte and YouTube...opportunity enough to get acquainted, right?
The digipak CD comes with a 12-page booklet, with artwork, design, layout and photography taken care of by SL himself (drawings and sketches taken from a Russian artist), as he seeks to combine music, lyrics (dealing with life and inner struggles) and artwork to create one single picture. At the moment the band is looking for a label