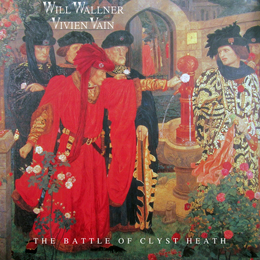 Album Title:
The Battle Of Clyst Heath
Release Date:
Tuesday, November 11, 2014
Following the self-release of their debut album Will Wallner & Vivien Vain in early Summer 2012, guitarist Will Wallner and singer Vivien Vain found Polish label Metal Mind Productions willing to release that album officially in October of the same year...and we at ConcreteWeb were sent a copy of the original, of which a review (by yours truly) was eventually posted on 13/03/2013 in a Two Side Moon Promotions special. And for all info prior to that date, I gladly direct you to said review.
In spite of all positive response from global-wide media, the project stayed a studio project until December 12, 2013, when the band played its debut show as direct support for Jake E Lee's Red Dragon Cartel (which also marked Jake's first show in over 20 years) at Los Angeles' infamous venue Whiskey A Gogo. Making a surprise appearance as the band's announcer, was Eddie Trunk, host of That Metal Show on VH1 Classic. Around that same moment in time, Vain and Wallner had already finished the writing process on a bunch of songs which would eventually comprise their sophomore album.
Recorded in 2014, the new album finds itself being mainly played by the core members of Vain and Wallner, with drummer Giovanni Durst and bassist Bjorn Englen (the latter a former member of Yngwie Malmsteen's band, and currently also a member of the tribute band Dio Disciples) functioning as the rhythm section. But of course there's still room for guest performances, and both Carmine and Vinnie Appice, as well as Tony Franklin have returned for guest performances. But there's more. You see, the album opens and ends with instrumental covers, the opening track being a Wallner version of the theme to the movie Blade Runner (originally by Greek composer Vangelis), and the closing track being a tribute to Gary Moore, with the cover of "The Loner" finding Gary's old bandmates Don Airey and Neil Murray (respectively on Keyboards and bass) being backed on drums by Vinnie Appice. In between opening and closing track, Vain and Wallner bring six songs inspired by the historical event known as "The War Of The Roses", which took place in Wallner's British home town of Devon.
At (www.) wallnervain.com, you get an opportunity to listen to "videos" of the album's title track and the song "Black Moon" (the latter featuring Carmine Appice on drums and Tony Franklin on the bass), but for more material off the curent album you'll have to look up its page at one of the trusted online sales sites (Amazon, iTunes and the like). They usually provide 30-second samples of an album's songs, and that should be enough evidence of the fact that Vain is indeed a female singer of World Class, and that Wallner is a guitarist whom, although mainly influenced by the Classic Rock antics of the likes of Rainbow, Thin Lizzy and Deep Purple, will aslo occasionally do stuff which comes close to shredding. In other words, there's a touch of modern in his play, but the music basically remains that fine, catchy, Melodic Classic Rock with a Progressive colouring on which so many styles of modern guitar music is based! Oh, just in case you're interested, at the band's facebook page (www.) facebook.comwallnervain, you should be able to listen to no less than 9 songs on that album!