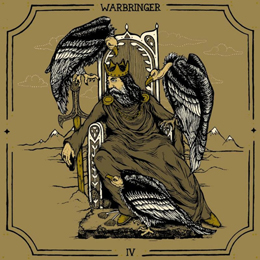 Warbringer is an American trash metal band formed in 2004. They formed the bans when John Laux and Victor Mikhaltsevich met during high school. They shared a strong common interest in Metal and began writing instrumental songs together. Eventually Victor introduced John Kevill to Laux as the new vocalist and immediately a strong creative partnership was forged. Originally they called themselves Onslaught but changed their name after learning that there was a band already using that name.
The band finally had a solid line up in place (after a few swaps) and had adopted the name Warbringer after attempting to combine War- as prefix to a variety of words.
And so many years later, the band is here with yet another glorious metal album witch makes you want to nod your head and tap your feet to. But that nod and tap quickly change into headbang and stamp.We all knew these guys could play and sing, but this time, the audio is amazing and they never sounded better.