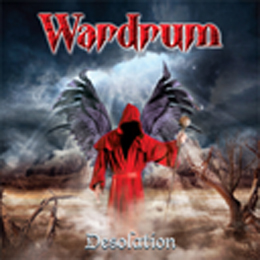 Thessaloniki (Central Macedonia, Greece) based Heavy/ Power Metal band Wardrum is far from a newcomer act. For even if the band itself only came into existence in the early Summer of 2010, the band already is at its sophomore album, and all of its members have an extended history in Thessaloniki based Metal!
You see, three of the band's members, namely guitarist Kosta Vreto, bassist Kostas Scandalis, and drummer Stergios Kouros, had been members of Progressive Metal act Horizon's End, which was founded in 1993, and released demos in 1993 and 1994, before issuing their debut album Sculpture On Ice on the Wmms imprint in 2001, and following that up with 2001's Concrete Surreal on Steel Gallery Records in 2001. in 2008, a third album, as well as a video clip for one of its tracks, was recorded, but subsequently shelved, and for a while the individual members went on doing their own thing. The guitarist, for instance, aided in this by the drummer, released a solo album of Neoclassical Progressive Metal and Shred tunes, entitled Skin On Strings on Steel Gallery Records in that same year, 2008! As for bassist Kostas, he joined the equally Thessaloniki based Power Metal act Final Answer, contributing to their 2008 debut album Visual Maze (also issued on Steel Gallery, but has since left the band again. As to his antecedents, he was part of Heavy/ Power Metal band Mindloss, which was founded in 1994, and released a demo in 1996 before disappearing from the scene at an uncertain date in the late'90s! Drummer Stergios' precedents include band membership in Escape (Power Metal, founded in 1991 and, with uncertain end date, releasing 2 demos in 1992 and one in 1995), and Death From Above (Thrash Metal act formed in 1993 and again with uncertain end info, released the EP Happy Deathday on Molon Lave Records in 1993, and contributed a song to the Beyond The Grave compilation LP, issued by the same label the year after).
More important, however, is that Stergios was also the founder of Wardrum. Calling in his former Horizon's End buddies Kosta and Kostas on guitar and bass respectively, the trio enlisted the services of Uli Jon Roth singer Piero Leporale [whose other antecedents include the band Dragon Rouge (no releases known) and Fil Di Ferro (official single in 2004 and album in 2005)] as vocal guest to record the Spadework album, issued through Steel Gallery in April 2011. Regretfully, with their singer living in Torino, Italy, the band's progress in the studio was not what the core trio desired and, starting work on a sophomore album straight after the debut's release, they went looking out for another frontman...which they relatively swiftly found in Thessaloniki based Yannis Papadopoulos, known from Until Rain (Prog Metal act formed in 2004, which so far self-released the "The Reign Of Dreams" full-length in 2009, and the Pandemic EP on Steel Gallery during 2011) and Crosswind (Power/ Speed Metal act formed in 1995, with demo releases in 1998, 2007 and 2008, and a contribution to the Opposing Forces/ Beyond compilation album, issued by Storm Spell Records in 2010, on their active sheet). With a vocalist now so close at home, the guys now not only had a singer contributing in the lyrics department, but the band's studio progress also came along much faster, the new album going into the pre-production stage in October 2011, and final adjustments and recordings being done in the period between November 2011 and February 2012.
Now, if Melodic Power Metal with some Progressive Heavy Metal hints and a frequently harmonically backed high-pitched lead singer is your thing, then I strongly urge you to go and check out whatever audio you can find on this band. Well, I can actually only speak for the band Wardrum, Mark II, as I didn't have any time to check what the band sounded like on its debut album...but of course you may not be so pressed for time as I am. So, after having checked, I can tell you thé site to check is (www.) wardrum.gr. The "Media" section featuring both audio (two songs off new album, 3 off the debut) and video – additional link to Wardrum TV), also has a link to the band's ReverbNation page, where an additional song off each album can be found.