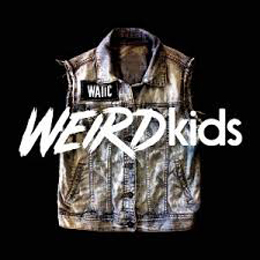 Release Date:
Tuesday, February 18, 2014
We Are The In Crowd is an American pop/rock (punk) band from Poughkeepsie, NY formed in 2009. The current members are Taylor "Tay" Jardine (vocals, keyboards), Jordan Eckes (rhythm guitar, vocals), Cameron Hurley (lead guitar, backing vocals), Mike Ferri (bass) and Robert "Rob" Chianelli (drums).
"Weird Kids" is the second album made by We Are The In Crowd. First track "You're No Match" a song to warm up the voice and explore their kind of music. But the second booms like heel, "Bear With me" starts with a really raw guitar riff…like this song. This song fits voice, guitar and drum a complete up tempo song, nice to hear. "Manners" is more a duet between Jardine and Jordan or a conversation between the two. These voices together is very powerful en sensitive made with a touch of melodic influence. But the voice of Talor Jardine is very powerful in the up tempo numbers, raw but still sweet and a strong empathy, like "attention".  And to close the album a bomb of a song "Reflections" up tempo again beautiful lyrics. And again a song with Jardine and Eckes a nice combination, I love this.
The album not bad with some very intense songs and some with the power!