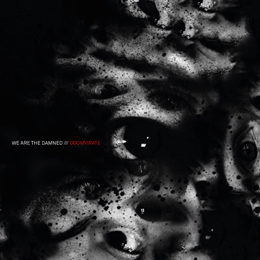 Three years ago, the then recent addition to the ConcreteWeb family, Jeroen, reviewed this Portuguese band's third full-length album Holy Beast, not caring much for the offering...in fact, he kinda dragged it through the mud some! I'm afraid he didn't quite understand where the band comes from, and what their intentions were, or he might at least have understood what he'd been listening to, and not just slag the band down because of personal musical tastes.
So...what IS this band about? As already mentioned in that old review (posted 27/03/2011) of my younger colleague, We Are The Damned (henceforth mentioned as WATD) was initiated in September 2007 by guitarist (and now lead singer) Ricardo Correia (known from having been in Painstruck, Atentado, Besta, Twentyinchburial and Mortify) and drummer Paulo Lafaeia (of Atentado, Besta, Painstruck and Mortify), two longtime friends (as you can gather from the common bands they were in) who decided to start a side-project into which they could incorporate elements from all their favourite bands of several Death Metal scenes. Leading Portuguese Indie label Raging Planet heard of the upcoming band, and immediately got in touch with the twosome with offers for a recording deal. The band was then still without a vocalist, but one was found within the first days of October 2007 in the form of one Sofia Loureiro, whom was asked to join after just a brief audition. With bass also being handled by Correia, the threesome entered the Portuguese Generator Music studio with Danish veteran producer Palle Scultz, whom subsequently mixed and mastered the material at Aarhus, Denmark based Tweetyhood Studio. In January 2008, the band started preparing for upcoming live shows recruiting TwentyInchBurial's Ruben Vilas for bass duties. He was however rather swiftly replaced by Painstruck's Raul Vicente, and it's in that line-up that the band did its debut shows toward the end of March, coinciding with the release of the album, The Shape Of Hell To Come. The band did several important support slots, playing seconds to the likes of Napalm Death, Suffocation, Cancer Bats, Arch Enemy and Marduk, catching the eye of both the public and critics as they went along.
Early 2009 found the band (at least temporarily) relocating to the UK, from where they began their conquest of Europe, starting off with a short UK tour supporting InMe. March 2009 found the band releasing a 7-inch entitled Metal Classics Vol. 1, on which they covered songs originally by Venom and Celtic Frost  (aha, you might say, finally the veil surrounding this band's musical preferences is lifted somewhat!). Many a show would follow (including support slots with Misery Index, Municipal Waste, Anathema, Moonspell, Sinister, Akerkocke, Insidious Decrepancy, Converge, Warbringer, Despise, and more), and in the doing plenty of European countries were crossed. Of course, along the way the band also went through some more line-up changes. The covers 7-inch already saw the inclusion of second guitarist Ricardo Cabrita (of Satan's Revolver), and Vicente was exchanged for André Teixeira (of Hills Have Eyes repute), although on the 7-inch and the ensuing full-length albums Resurrection Plague and Holy Beast, Correia performed all bass duties in the studio. Since Holy Beast, the band released the 7-inch Metal Classics Vol.2 (March 2012, and still on Raging Planet, by the way), this time with covers of Bathory and Autopsy songs (and yet another bit of the veil is lifted).
The new album was apparently recorded with just the founding members in the studio (and some extra imput on bass and additional backing vocals by Miguel Correia), although a line-up of Correia (guitar & lead vocals) and Lafaia (drums) with the addition of guitarist Nuno Loureiro (a veteran of the Portuguese Extreme Metal scene with a past tenure in Mato Ratos, Disaffected, Shadowsphere, Grog, Castle Mountain, Exiled, Sublevel, Squad, Painstruck, and most recently Merciless Death) and bassist Pedro Cobrado (formerly of Re-Ack-Thor) is already mentioned at the band's facebook and metal-archives.com pages! The music itself is angry, highly energised, and fast-paced...but not without your necessary breaks and short slower passages, bringing in some memorable melodies. Dubbed at metal-archives.com as a mixture of "Death 'n' Roll" and Crust" and as "Metal Black" on the band's facebook page, the label gives a more potent description as follows : "...the band brings together abrasive Hardcore, Punky Crustcore, Violent Death Rock, and massive Metal," with references to Disfear, Napalm Death, Motörhead, Eyehategod or Entombed. The truth...lays somewhere in between all the above descriptions, and certainly makes for a band of which I'd like to hear more!
Confused? Be your own judge, and check out some of the music possibly available (I was unable to check with the network PC I do my research with) in the "BandPage" section at (www.) facebook.com/wearethedamned. The guys also have a MySpace page, and material by them is posted at BandCamp. Also, there's quite a couple of videos by the band on YouTube. I'm afraid it might be a while before the band gets its ass back over to our part of Europe, as a tour in late Europe already found the band on a roll through Spain (3 shows), France (2 shows), Belgium (only the one show on 18/03 at Brussels' DNA), Holland (also only one show), Germany (5 shows), and 5 more shows in France and 3 in Spain on the way back home to Lisbon. In more than one way, there's room enough to pass through the same countries later in the year, doin' different venues of course, but we'll have to wait and see what drops out of the box, so to speak! Meanwhile, we can enjoy the relatively short (only about half an hour in length) new album!