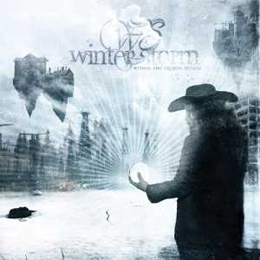 Hailing from the West Midlands British town of Kidderminster (which is situated some 26 km from Birmingham in SW direction), this band was formed in early 2008 by (lead) guitarist/ singer Hannah Fieldhouse (formerly of Oxzide and Stream Of Sound, and also running an own acoustic project on vocals & guitar under her own name), and guitarist Wayne Taylor (whom was singer and founding member of local Metal outfit Forge Chaos, at at the time of Winter Storm's formation looking for a chance to give his voice a rest, and try his skills at the 7-string guitar to the fullest). With the addition of a first bassist and drummer, alongside session keyboardist "Doomsday" (whom runs his own Industrial Electro band Dead Happy, influenced by Nine Inch Nails and Mindless Self Indulgence, and is a professional wrestler outside the bands), the quintet explored a different kind of Gothic and Symphonic Metal, which soon gave the band the opportunity to play support slots to relatively known bands.
Indeed, since 2009 the band has shared the stage with the likes of Achilla, Alestorm, Delain, Mortad, Die So Fluid, Evil Scarecrow, Idiom, Kells, Kobra, Lahannya, Raggedy Angry, ReVamp, (ex-Cradle Of Filth's) Sarah Jezebel Diva, Sirenia, Theatres Des Vampires, The Birthday Massacre, The Eden House, The Lotus, To-Mera, Triaxis, Voodoo Johnson, and more. In November 2010 the band self-released its debut full-length Serenity In Darkness, which was given favourable reviews by the likes of Powerplay Magazine, Femme Metal, Ravenheart Music, and Midlands Rocks. Session bassist on that album was one Jamie Downes, whom would join the band's ranks following the release. By then the band had apparently also gone through some drummers, the last know, Absolution's William Stokes having replaced two prior ones. Anyway...festival appearances happened during 2012 and 2013, opening the band to ever wider audiences, but along the way the bandmembers also wrote new material, which they started recording in early 2013. Since the end of the recordings (or possibly already after having their bits for the album done), both the drummer and bassist left, and as far as I know the band is still looking for replacements.
So, if you're from the Midlands...oh, you must've heard of the band then, right?...anyway, if what music you can hear in the video section at (www.) winter-storm.com, or in the "Band Profile" section at (www.) facebook.com/winterstormuk (the band should not be confused with the Quebec based Canadian Power Metal band WinterStorm...who changed their name to Farsight in 2007 anyway!) is to your liking, then by all means consider completing this band's ranks...even if that means moving several hundreds of miles from wherever you call home at the moment. Of course, a certain level of professionalism and technique will certainly be appreciated, I guess! For those among you who're nót musicians looking for a band to join, and looking for a reason to check the band out...what can you expect? Well, for starters, Hannah is not your run-of-the-mill Gothic Metal singer, oh no! Admittedly, she has somewhat of a limited mid-octave range, and you'll hardly find her screaming on the album...in fact, her voice is a relatively calm one, but with a haunting undertone (a slight vibrato even)...one which sets the band apart from all other acts in the genre, and also makes 'em recognizable from the moment she opens her mouth! The music itself ain't no common Gothic or Symphonic Metal either, because although the keyboards are present throughout, the slightly repetitive yet melodic guitars give the whole a wacky Punky touch (consider that among Hannah's musical influences one can find the likes of Iron Maiden, Opeth, Nevermore, Megadeth, Immortal, Devin Townsend and Rob Zombie, and you'll understand where that "thrashy" part of the band's sound comes from...I guess!). At occasion, where the songs need a such eccentricity, Hannah also plays a mean bit of solo guitar...quite delightful! By the way, the band also has a MySpace page (find link at their own site).
End conclusion: If you're a Gothic Metal fan looking for something out of the norm, then Winter Storm will satisfy that need. However, anyone into good music which doesn't follow the Music Industry's needs of the moment, will find this a very fine band to listen to, indeed!