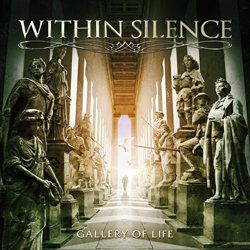 Within Silence are a new band, hailing from Slovakia.  They originally formed in 2008 under the name 'Rightdoor', and under this name they continued in different line-ups over the following years, although the two founding members Martin Klein and Richard Germanus always formed the backbone of the band.  In 2012 they recorded a single, and at the end of 2014 they finished their first full length album 'Gallery Of Life'.  It was at that they they decided the band needed another name, and they switched it to 'Within Silence'.
What you get from these guys is melodic power metal with hints of progressive metal, technically very well performed, and with some excellent vocals.  The twin guitars are fantastic, but once again the vocals are what could make this band big.  It's maybe a bit daring to say this, but at times Martin Klein's vocals, remind me of Bruce Dickinson, still one of the best, if not the best singer in our genre.
A very good debut album. An album that might make the top ten in my 2015 'best of' list.