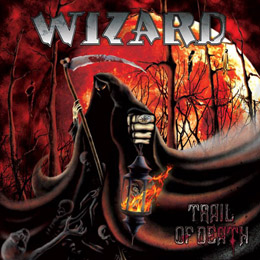 Release Date:
Friday, September 27, 2013
This German heavy metal band was formed by four friends: Michael Maaß (guitar), Sören Van Heek (drums), V.Leson (bass) and Sven D'Anna (vocals). This line up is still standing to this day what is a rarity to be honest, so they are a true group of musicians and much more important, friends. They have to be, otherwise they wouldn't be around here for 24 years.
So yes we have a well-oiled metal machine that knows how to make good heavy metal music. They prove it once again with their latest release entitled "Trail Of Death". Witch turned out to be a well-balanced, solid and classic heavy metal record. But I have to admit that there are 2 songs somewhere in the middle of the album were I lost my attention. But it's almost as if they anticipated it because after those 2, they pick up their slack and get right back at it. So if you get this one you'll get a record where you can hear all those years of experience. Not only instrument wise, but also they way they make records.