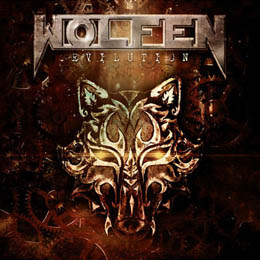 Release Date:
Friday, September 12, 2014
Wolfen come from Cologne Germany and Evilution is their 5th full length album since the band started out in the second half of the nineties… 
Seen the time the band has been around it should not come as a surprise that Evilution comes clearly with experience on both the sound of the album and the technical skills of the musicians. What's on offer is pretty up-tempo Power Metal with all genre-typical aspects being present, these being solid riffing, big choruses and a vocalist (Andreas von Lipinski) whom situates himself in the higher regions. What's lacking on this album is the band's own identity: in every song on the album there are references to the bigger bands in the same genre it being opener "Sea of sorrows" (is that intro Megadeth??), mid tempo headbanger "Eternity" or any other track on offering.
If bands like Symphony X, Gravedigger, Firewind, Iced Earth etc…are your cup of tea, then you can add Wolfen to your collection without too much concern.