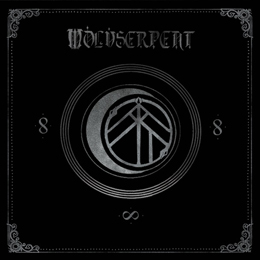 Release Date:
Tuesday, September 17, 2013
With Perigaea Antahkarana, the Drone Death duo (singer/ guitarist/ keyboardist Blake Green and drummer/ violinist Brittany McConnell) known as Wolvserpent releases its sophomore full-length, and its debut for Relapse Records.
There's apparently no consensus as to when exactly the band, say project, came into being...one source speaking as 2010 as the foundation year, another of 2009...yet the band's first demo release dates from October 2008! The answer to those inconsistencies probably lays in the fact that both members had been together since 2005 in the project Pussygutt which, as far as I know, never actually released anything at all! By the way, McConnell and Green (along with Garek Druss of A Story Of Rats) are also known from the projectMezektet (which so far only released one cassette tape, recorded in 2008-2009), and Green is also active with the project Aelter (which may be a logical progression from a former band/ project named Alter, and which thus far has had 3 full-length releases, all self-released on 12-inch vinyl through Wolverspent Records – a compilation of the first two even got a more "official" release through Crucial Blast).
But, back to Wolvserpent, who issued their first release in the form of the 2-track album (it wàs after all over 35 minutes in length) Gathering Strengths, on October 1st, 2008, and released it on a 500 copy rotation somewhere in 2009 through the OESBee imprint. The release must've somehow attracted the attention of Richmond based Forcefield Records, who delivered the band's official debut album Blood Seed in October 2010. by the end of 2011, the duo was again in the studio, and in January 2012 came out with their 5-track demo Perigaea, which for reasons unknown they decided to keep on shelf. In the months to come, several re-writes of the material had happened, and eventually the original demo was made available for download (through the band's BandCamp page and the duo's own website) in November of 2012. Then, suddenly, Relapse came a-knocking.
In the info sheet which accompanies this 2-CD release, it's stated that the album's material is quite different from the original demo (I'm afraid I lacked the time to check things out, but one difference, at least, is the length: 73 minutes for the demo against almost 82 for the album) and that it was recorded in 2012's Autumn with recording engineer/ producer Mell Dettmer (may be known to some of you from former collaborations with the likes of Sunno))), Boris, Asva, Earth, and Eyvind Kang, among others). Although summarily described as Drone Death, there's definitely elements of Black as well, in the occasional deviation from growled vocals towards Blackened scream and screeches. Also, the violin brings in elements of both Classical (sounds obvious...and according to the info sheet, influences there come from the likes of Arvo Part, Gregory Ligeti, and Krzysztof Penderecki) ànd Folk...in a very awkward kinda way. I guess you'd have to listen to the material in order to grasp the complete picture of the album...
...and that's exactly what you càn do, by surfing to (http://) wolvserpent.bandcamp.com (where you can also check the duo's previous stuff, including that 2012 demo). Check it out, and find that Drone does not necessarily go together with endless repetitions, but can be quite Epic as well! Having always been attracted to Drone music, I can say honestly that Perigaea Antahkarana counts among the top 3 albums of what I've come across in the genre so far! Great stuff, this, and definitely food for óther people's year-lists!