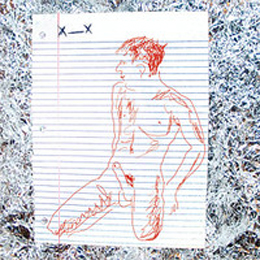 Gee...how does one start up a review on this band, now longtime defunct? Well, best to simply state the fact that X_X (pronounced 'ex blank ex') were only in existence for 6 months during 1978, but during that time tore through their native Cleveland "like a Dadaist cyclone" (taken from the info sheet that came with the promo download of this anthology album which compiles a couple of singles with some live and rehearsal recordings). And, you know, leave it up to weird sounds archivists at Ektro to unearth such a musical jem, which might otherwise have gotten forgotten in the mass of contemporary musical offerings!
The band was founded by guitarist-singer John D Morton, as a tighter, more rocking successor to his Proto-Punk act The Electric Eels...and an early rehearsal room gathering of the band even included that band's inimitable singer's Dave E McManus, as well as future Psychotronic Encyclopaedia Of Film author Michael J. Weldon. But the line-up soon enough stabilized to include weirdelic guitarist Andrew Klimeyk, CLE magazine editor-turned-bassist Jim Ellis (a true artist on his instrument), and famed drummer Anton Fier (whom would go on to legendary status with his later bands, the Feelies, the Lounge Lizards, Pere Ubu, and the Golden Palominos). Originally, this outfit simply redid some of The Electric Eels' classics in severely altered versions (some of which would return even more revised on a Styrenes LP and on Klimeyk's solo 7-inch), and there wasn't really much time for the outfit as a whole to write a lot of original songs, as after the six-month stint, Morton moved to New York City (later relocating to the hinterlands of NY State, from where he paints, sculpts, writes, draws, shoots photographs, creates "giclée" prints, and occasionally travels to perform with his bands Drunken Swine Of Chelsea, Scarcity Of Tanks, and/or New Fag Motherfuckers. In spite of that busy life, he still found time to actively contribute to this anthology by designing the package and supervising the production. As an extra incentive, none less than Underground-Culture historian Jon Savage was found willing to write the liner notes for the booklet of the CD/ info sheet of the LP (the latter's release, by the way, was postponed to April 4, due to too many people wanting their albums printed and ready in time for Record Store day, this coming June 19).
Getting back to the material at hand, it has to be said that even for '78 recordings the music is a strange affair. Or, perhaps not? I mean, a lot of people were experimenting with out-of-the-box music those days, and in the case of X_X, the musicians were playing around with somewhat repetitive-yet-catchy melodies (some of which are truly memorable), to which some angularities were added to bring an extra feel of psychedelic weirdelica! Even more angular than the music, were Morgan's vocals, described in the info sheet somewhat cryptically as a "potent cocktail of brute force, no-wave squall, and nihilistic art prank". Morton's vocal display was actually quite varied, veering from a more energetic to a more constraint one...and best heard in order to make a good assessment. To help you with that, the label posted 2 songs off the album on their SoundCloud player (find it by browsing the (www.) ektrorecords.com site!), starting with album opener and single extract "No Non cs", with the live recording of "Your Full Of Shit/ Tool Jazz" displaying a more energetic side to the man. The "Tool Jazz" part of the track includes a circular saw being used on stage as major part of the music. A last word needs to be said about the bandname : it was conceived as a mental exercise in which people could insert random words or phrases between the two letters in the monicker (and so no relation to the later use of the X's, as would be used in the Hardcore sub-genre Straight-Edge). In the case of this anthology's title, Morton uses that possibility to give a stab at Rolling Stones' sagging legacy (words taken literally from the info sheet, so in case you're a fan, don't blame me).
End conclusion : a darn nice retrospective, and the mind boggles what great full-lengths might've come from this outfit, had not Morton relocated, and continued with the band! At any rate, the album deserves to be added to be added to a certain amount of people's year-lists, and as a true music lover into strange things, I sure hope I'm the first to start a rage!