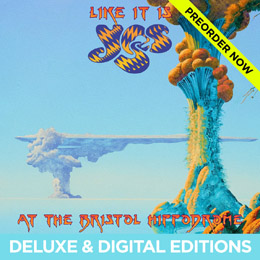 Album Title:
Like It Is – Yes at the Bristol Hippodrome
Frontiers Records seems to be flooding the market with releases of live albums.  I really don't know what the meaning of this is, since the market of CD's is already overflooded with releases, and on top of that the sales are in recession since years. With an economic recession that's still not completely over, who can afford to buy all this is really a riddle to me,especially since the younger generations are also more keen to download an album, then buying it.
In 2014 Yes did a tour, containing visits to Canada, the UK, and Europe, and on this tour they played in it's entirety their 1971 album 'The Yes Album', 1972's 'Going For The One' and 1977's 'Going For the One'.  The line-up of the band was not the original line-up, or let's say not the complete original line-up, since Jon Davison handled the vocals instead of Jon Anderson, and keyboards were played by Geoff Downes instead of Rick Wakeman, but since he' been an on/off member of the band in some ways, you don't hear any difference.  Likewise, Jon Davison's voice sounds astonishingly like Jon Anderson.
While on the tour they played the setlist of three albums, on this double album only the first and last of the three are represented.
This might be an album for Yes afficionado's, but it's not my cup of tea I'm afraid.  Not that it is not well performed, that's not the case, as might be expected by such old-timers – the combined age of the musicians on stage must have been around 300 years – but what I miss on this album is some fire.  Of course with Yes's music, that's hard to achieve, but anyway.
Conclusion : this is something for the die-hard Yes fan.