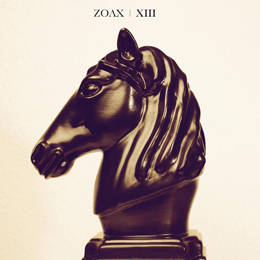 Release Date:
Monday, February 17, 2014
Zoax is an alternative rock/metalband coming from Londen, founded in 2013. Five people: Adam Carroll – vocals, Daniel Prasad – guitar, Douglas Wotherspoon – guitar, Joe Copcutt – bass and Jonathan Rogers – drums. Found on the infosheet "Genre defying, exhillarating and refreshing"
"XIII" debut Ep with 5 short, compact and energetic song served by Zoax. You can't define a real genre for this band. It rocks, punky, intense, metal and some slow passage. The vocals are very intense with sphere and emotion. First song "Bitter, Angry, Fake" nice start and a good warm-up to get used to listen the album. Heights and lows going together in this number, intense and very sensitive. Nice song guys! Second "Burn It To The Ground" some metal riffs and the raw voice from vocalist Adam Caroll…nice combination. And to close the wonderful "Mind Game" the sound reminds me at the Deftones. All by all not a bat debut EP.
I'm sure that we will hear more from them, let them ripe and they come back.