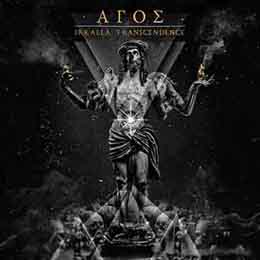 That's why I (sometimes) like collaborations: ΑΓΟΣ, aka AGOS (yeah, I learned some Greek too in a not-so-recent past), are a partnership in between Virus Of Koch's Van Gimot (performing about everything) and Aenaon / Black Winter's Astrous (responsible for all lyrical and visual concepts). But such co-operations aren't necessarily winning teams; but in this case, however, it is.
What Agos bring with this first vinyl-only quest is quite a limited piece (250 copies only, with no repressing) of superb so-called Morbid Death Metal. But that's way too easy to promote new material.
I'll go deeper into the subject – a subject that lasts for almost twenty minutes. And it's that kind of subject that defines a symbiosis of different things, yet all related within roots of 'Death' superiority: the obscure Doom-Death from the (European) Old School, the necrotic sounds from the American tradition, the morbid elements from the Dutch and German scene, and the blackened aspects from Greece. Ævangelist, Portal, Autopsy, Necros Christos, Ascension, Mitochondrion, Malthusian, Perdition Temple and Dead Congregation are just a handful of references, but believe me if I say that Agos are at least as impressive as those fabulous acts. Therefor: highly recommended! This stuff is totally overwhelming, filled with terror and horror, power and over-power. This material trespasses the average by presenting something that is both unique and convincing. Besides, the sound quality is just top-notch. It lacks of a surgically-precise balance in between modern cleanliness and melodious-correct sweetness, but it breathes that essential sulphuric stench that is needed to express this kind of beautiful ugliness!
Timeless and still paying tribute to the Origin of All Evil, Agos are the expression of old times' Glory! I hope this duo will record and release a full length album in a very near future!