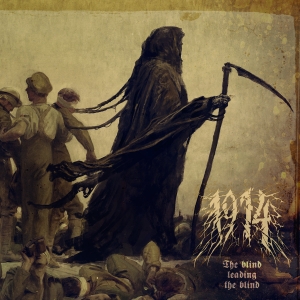 Album Title:
The Blind Leading The Blind
Release Date:
Sunday, November 11, 2018
War in…
Exactly 100 years after the start of the first World War, some Ukrainian musicians joined forces under the name of 1914. Not kidding! Their aim was, in the first place, to play the stuff they do like, i.e. heavy and warlike Death Metal from the old school, and in the second place to canalise some thoughts on WWI. Pay attention, because 1914 are not a typical Nazi-combo, okay!
Though, even the band members' monikers might give a (false) idea of right-wing ideology: 2.Division, Infanterie-Regiment Nr.147, Oberleutnant Ditmar Kumar (vocals), 5.Division, Ulanen-Regiment Nr.3, Sergeanten Vitalis Winkelhock (guitars), 9.Division, Grenadier-Regiment Nr.7, Unteroffiziere Armin Von Heinessen (bass), 33.Division, 7. Thueringisches Infanterie-Regiment Nr.96, Gefreite Rusty Potoplach (drums), and 37.Division, Feldartillerie-Regiment Nr.73, Wachtmiester Liam Fessen (guitars). Heil!
This band from Lviv recorded several singles before, one split with same-minded colleagues Minenwerfer, the digital EP Für Kaiser, Volk Und Vaterland! (re-released via Archaic Sound, by the way), and one full length, Eschatology Of War (Archaic Sound, 2015) – all fantastic material, believe me! After the 2016's EP, things went silent, but now the band returns with their second official studio full length (on compact disc with 16-page booklet, on cassette and via the contemporary digital sources), The Blind Leading The Blind, via a co-operative collaboration of Archaic Sound for the European release, and Redefining Darkness Records for American soil. Hail to you too! And it has now been re-issued by Napalm Records too...
The Blind Leading The Blind is a collection of eleven monumental compositions, offering one hour of sonic terror. The tracks were recorded in the quintet's hometown, then mixed in Sweden (Nailvillage in Borlänge), and hey, the release was done on November 11th 2018, on Armistice Day, exactly 100 years after the official end of World War I. no, not a coincidence, evidently…
Those trusted with this band's former efforts do know that 1914 perform Warfare Death Metal, yet with a distinctive, recognizable approach, a lot of variation and unique additional elements. In this review, I will not go to deep 'into' each single composition, yet a general description would be too 'empty' too. So I'll give it a twist.
Generally seen, The Blind Leading The Blind brings intense, energetic and pounding Death Metal with a timeless approach, yet firmly rooted in the old schooled tradition. The album has a huge variation in speed, and this counts for about every single piece on it: from ultimately slow-paced over mid-tempo to hyper-kinetically fast, even grinding and blasting from time to time. Just listen to the opener Arrival, The Meuse-Argonne, for instance, and you'll be surprised by the ease of this Ukrainian act to make such organic collage of speed-up moments, totally decelerated chapters and everything in between.
The better part is based on melodious structures and pushing rhythms, with a mostly well-balanced equilibrium in between all elements: lead and rhythm instrumentation, vocals and samples included. Those guitar melodies have something epic and, at the same time, quite hypnotic once in a while, especially within the slower and mid-tempo-oriented parts. The faster excerpts are like thunderous outbursts, like a pyroclastic eruption that suffocates and devastates. As mentioned: permanently performed in such a unique organic way! Some tremolo leads / soloing even shows hint of semi-emotive elegance, rather melancholic or heroic than glorifying brainless and senseless violence.
In this band's case, the whole rhythm section is at least as important as the leads (tremolo riffing, solos and lead melodies). The drum patterns vary from almost meticulously detailed to roaringly overwhelming, and I think the whole percussion presence carries each single sonic entity like a pillar carrying a bridge, a skyscraper, an archaic edifice. Yet the whole rhythm string section too acts like a non-superfluous 'ingredient' that cannot be missed as part of the result. Thanks to the intense yet very professional mix, the rhythm section gets the honour it deserves, in natural symbiosis with the whole experience. And even the acoustic passages sounds correct. In The Hundred Days Offensive, the mix of atmospheric yet epic acoustic guitars, martial drum patterns and those vocal samples (really touching) simply is a breath-taking introduction to the majestic approach of this killer-song.
The grunt of Oberleutnant Ditmar Kumar is very convincing, being deep, raspy gurgling and loud. It sort of comes with a blackened edge - not literally the kind of scream reminiscent of the Black Metal scene, yet at least as grim, pernicious and ireful. A couple of times there is that blackened throat too, yet that isn't but a sporadically appearing element.
I do also like the way this band makes use of different samples. The use of sources from historical speeches, movies (old and newer), sonic sources whatsoever is not new, especially not with war-themed recordings, but in 1914's case it is used and mingled with intelligence. The great thing is that the samples come from many sources: speeches, music from a century ago, excerpts from recordings and movie fragments, and so on. Yet it gets mixed at the right moment, at he right place within the different compositions. Just enjoy the happiness of both the intro and the outro to experience the open-minded approach of this band.
A remarkable passage is the cover Beat The Bastards from the legendary cult Punk act The Exploited. After the introduction with bagpipes, 1914 bring a very own-faced, eccentric, even black-grinding version of the original song, maintaining a punky attitude, yet twisted and transformed into their own sound. Remarkable yet successful!
And oh yes, it would be an insult not to mention the guest appearance of Dave Ingram (think: Benediction, Ursinne, Down Among The Dead Men and many others) in the anthem Passchenhell. This track gets a specific uplifting dimension, thanks to the expanded vocal expression. And then, those weird, slightly dissonant violin lines… Nice…
For fans of everything in the vein of Hail Of Bullets, Sanguis Imperem, Bolt Thrower, God Dethroned, Mi'Gauss (without the folky melodies) and the likes; even Asphyx, Benediction and Massacre might come to mind!
[PS: Dave Ingram also used to be, for a while, in the line-up of Bolt Thrower and Hail Of Bullets, so there is an evident link in between both former paragraphs]
War out…