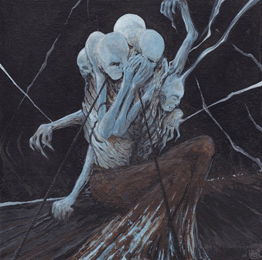 Abaddon Incarnate from Ireland were formed when Bereaved were put to rest in 1994. After some demos, they were signed by France's label Season Of Mist, and in 1999 they released The Last Supper, followed in 2001 by Nadir (through Sentinel) and Dark Crusade in 2004 (Xtreem Music). After a couple of years of relative silence, Abaddon Incarnate returned with Cascade (2009, this time released via Metal Age), but it took another five years to have the opportunity to listen to their newest sonic attack, optimistically entitled Pessimist. It was recorded and mixed in three days with the main stuff recorded in one single take, only in order to give it a natural live-feeling. Yeah, whatever…
Pessimist brings thirty six minutes of rather traditional yet, at the same time, timeless Grindcore with a subtle Death Metal-edge. It is extremely nasty, filthy and brutal, full of energetic aggression and aggressive energy. Besides, it comes with a colossal sound quality; listen for example to those muddy yet perfectly mixed bass sound, or the sublime yet well-crafted equilibrium in between the leads and rhythm. When it comes to the production, I must think about the likes of Autopsy and Abscess, Bolt Thrower or early Entombed; this might give you an idea, is it not?...
However, despite returning with probably the heaviest effort to date, Abaddon Incarnate still lack of an own face. Especially old Napalm Death, as well as the likes of Nasum, Brutal Truth, Repulsion, Mammoth Grinder, Terrorizer, Pig Destroyer and Gadget, have been of more-than-evident influence. This stuff sounds all right, but not that enormously convincing. Conclusion: the lack of being creative and the limited variation, plus the non-convincing performance make this album nothing but average. Yet still I think it is more than just a possibility for fans of higher mentioned top-entities.