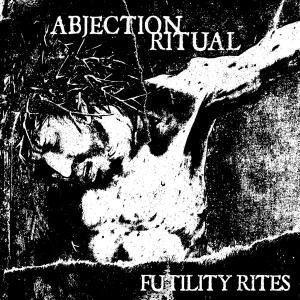 Release Date:
Tuesday, September 15, 2015
In the North-West of Pennsylvania there's a city called Erie. Erie, the word, does not differ that much from 'eerie', and that's not always a coincidence. Please welcome Abjection Ritual, and take notice of the small difference in between Erie and eerie – for eerie indeed is what this Erie-based project brings!
Actually, Abjection Ritual used to record and self-release two CD-r's before (Psychiatric Failures and Abjection Ritual), but I have not had the opportunity to enjoy those. And that's sad, because Futility Rites, the debut album, does not consist of any of those previous recordings.
Anyway, this first official album gets released via one of the oldest (they started in 1994) and most impressive Industrial labels, being Baltimore, Maryland-based Malignant Records. Prepare for some more noisy outbursts in the near future, but first things first. Futility Rites has a total running time of forty eight minutes and consists of eight integer lullabies… not!
Actually, Futility Rites brings a mostly Malignant, sorry, malignant and Erie, sorry, eerie mixture of Death Industrial, Black Ambient and Necro-Ritual Noise. Most pieces combine elements from subtle Power Electronics, haunting noise-scapes and industrial details, combined with gruesome tortured screams, droning soundscapes, martial melodies (cf. a piece like the title track) and minimal yet totally distorted Noise-outbursts. These eight necrotic compositions express an atmosphere of post-apocalyptic nihilism and despair, which won't disappoint 'fans' of everything in the vein of, let's say, Gnaw Their Tongues, Vermiin (the album actually was mastered by no-one else but John Stillings, by the way, so this won't be such a big surprise), Atrium Carceri, Black Depths Gray Waves, Brighter Death Now, Trepaneringsritualen, The Vomit Arsonist or MZ.412,. The few additional sampled excerpts too are quite fitting, but the focus lies on harsh-droning, creepy and mostly uncomfortable waves of apocalyptic sounds and noises, subtly transferred into a mesmerizing, suffocative soundtrack for a Post-Life (read: Post-Earthly Life) existence.