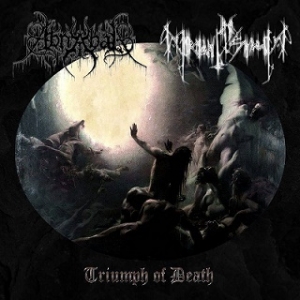 Release Date:
Friday, November 20, 2015
Since a couple of years, Cold Raw Records from the United Kingdom have become one of the most important Black Metal underground labels from West-European soil. Just click on the label's name above to read the (many?) reviews undersigned did for them as from December 2014. And there's more to come, but first I'll focus on a split called Triumph Of Death (damn, haven't I heard of this title before???)… It comes in a very limited hand-numbered edition of 120 copies only.
The first three tracks are created by a band that comes from a rather unusual country, at least when it comes to Black Metal: Abnabak (meaning something like 'anonymous', which fits the project's identification) from Morocco. It's a one-man outfit that did release an EP in 2013 (Under The Mask Of Humanity). Now sole member Aggor returns with four new tracks that he did record and mix in 2014 in the city of Agadir in his home country.
The lengthy pieces Coincidentia Oppositorum and Memento Mori stand for a little Scandinavian sounding form of Traditional and Melodic Black Metal, based on varying tempos (mainly speed-up, yet with slower passages), quite some variety in structure, a heavy yet relatively background-oriented rhythm section, and traditional screams. It's quite cool to notice that Aggor is capable to translate Nordic-styled tradition into a distantly-progressive (not of the modernistic kind, luckily!) and little dissonant sound, paying attention to both the essence of the Norwegian Second Wave basics, as well as a universal creativity that offers that needful, and wishful, 'something different'. Third Abnabak-piece on this split is a cover from (mighty) Sargeist, Empire Of Suffering. And believe me if I say that it surely is a monster of a cover version! It surely impresses me. Stylistically Abnabak's approach is comparable to that Finnish project, so I do not think it was a bad choice to choose a Sargeist-track.
The production / mix is all right, somewhat buzzing and rough-edged, but this truly fits to the specific approach by this one-man army. And in contradiction to some other 'exotic' bands, Abnabak do not use 'local' elements – no Arab melodies or traditional excerpts right here; just the basic essence of the Second Wave is what you get!
9/10
---------------------------------
The three other tracks are by done by Finnish band Mormânt De Snagov. The band's name, the members' nick names, everything reeks of Romanian grotesquery (actually, the band's name means 'the grave of Snagov', with Snagov being the name of a village not that far away from capital city Bucharest). This isn't their first split-contribution (there was one with Die Schwarze Sonne in 2012), but this one is quite interesting, consisting of a new, an old (re-recorded) and a cover song. First I have to admit that I have never been a 'big fan' of this act, but in all honesty I need to add that I did never dislike them either. With this split-contribution my opinion does not really change that much.
You're Next actually is quite a surprising composition, filled with breaks and tempo-changes, and actually it does surprise me the positive way. The track is heavy and 'full', continuing within the band's characteristic creative style. Then comes a re-interpretation of Antagonism, which originally appeared on the band's debut album Rise From The Void. It isn't actually that different from the original version, though the fact that it sounds more convincing is a surplus. Mormânt De Snagov's cover track is Deathcrush by one or another band from Norway you might have heard of, i.e. Mayhem. It does not reach the greatness of the original track (at all), but I did expect a worse performance, and that's pleasant to notice.
In general I am surprised the positive way by this Finnish act's contribution on the Triumph Of Death split, but they still cannot convince me to become their most dedicated fan. Yet still, nice try this time…
7,5/10
---------------------------------
So, in conclusion I can be clear about Triumph Of Death: I'm impressed twice. But for sure the winner is Morocco's Abnabak (beware: it isn't but undersigned's personal opinion; you do not need to agree, yet since this is my review…). I hope to hear from this project very soon. But if Mormânt De Snagov continue evolving within this positive trend, I do look forward to hear their new material too (in case they are writing and / or recording new stuff).