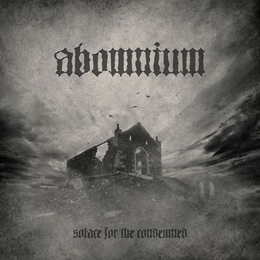 Abomnium are the main project of a guy called Sapient, who originates from the United Kingdom, but who lives in the Netherlands right now. With Abomnium, he recorded two albums in the past, the self-released Rites Like Chains (2011) and Coffinships in 2013, the debut for UKEM Records.
For this third album, Sapient was helped out at the Skyhammer Studio by top-producer Chris Fielding (Primordial, Masochist, The Wounded Kings, Winterfylleth, Conan and tens of others) to take care of the studio duties. The result, Solace For The Condemned, lasts for forty eight minutes and brings a pretty twisted form of (Black) Metal.
The album starts with Condemned, which opens with a short but eerie introduction (haunting keyboard lines and distant howls). After a short while, Abomnium transform into a megalithic monster, a somewhat eccentric, harsh-rhythmic and angry form of un-traditional Black Metal. I am impressed not only by the massive sound and the intense experience while listening to this material; the variation is enormous. The song also includes melodic passages, aggressive outbursts, epic majesty, mechanical patterns, mesmerizing excerpts, elements from other genres, and lots of changes in tempo, structure and melody. This opening track sets the tone for Abomnium's third album.
And indeed Solace For The Condemned continues this magnificent way. There is a huge dose of variation, an incredible powerful execution, a fine amalgam of different yet related Extreme Metal styles, a skull-crushing production, and a well-thought equilibrium in between aggression and melody. only the somewhat mechanical background might bother some. Since this is a one-man band, Abomnium make use of programmed drum computer patterns, and that is not always that acceptable, I think. But every single track on this album has something unique to offer. I reviewed the opening track Condemned, but I want to refer to each single composition, up to last track Solace. He, those titles, Condemned and Solace… Might it define the album's title?...
I recommend to listen to this material (at least a couple of times) because Solace For The Condemned is not just the easiest-listening album you will hear. But the open-minded Evil Ones amongst us will notice this album's relevance.