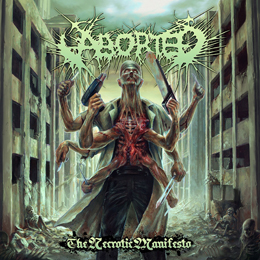 One of Belgium's greatest acts ever are Aborted, active for almost twenty years. Sven 'Svencho' De Caluwé and his crew did record this eighth full length (after The Purity Of Perversion, Engineering The Dead, Goremageddon - The Saw And The Carnage Done, The Archaic Abattoir, Slaughter & Apparatus: A Methodical Overture, Strychnine.213 and Global Flatline; check out the review on the latter done by colleague Tony, posted on march 4th; this review has a very extensive biography, so I'll make up with referring to that review in Concreteweb's Archive-section) with Jacob Hansen once again (he engineered the band's 2012-album Global Flatline, as well as 2003's Goremageddon …). Brings me to a first surplus: the colossal sound! And no, it is not over-the-top, for this bashing production mercilessly strengthens the massive brutality of these sing-alongs.
Helped out by former and / or current members of e.g. God Dethroned, Detonation or Abigail Williams, Svencho bring another brutal head-banging and skull-crushing collection of murderous Death Majesty. The Necrotic Manifesto deals with the legendary 'book of the Dead' aka the Necronomicon, and it lasts for forty three minutes. After an impressive and horrific yet short intro (Six Feet Of Foreplay), Aborted bring what they are good at: fierce and rhythmic, slightly grooving and monstrous Death Metal with hints of Gore-Grind and Grindcore. Still inspired by the likes of Cannibal Corpse, Napalm Death, Suffocation and Deicide, Aborted are able to put their own mark on this album. Yes, they did it in the past as well, and especially as from Goremageddon … on (which I do still consider the band's highly-deserved 'break-through'), they became an example for the scene. It's not a surprise that many bands do consider this Belgian act (nowadays rather a Belgian/Dutch combo, with the new members involved) as an influence (think Human Mincer, Benighted [the one from France, of course], and several others). And with this album they will surely strengthen their position on the top of the international scene.
A remark however be made: I do not really feel any progression in comparison to both former albums. It is a pity, because my expectations were very high. No, I won't say that I am disappointed, because I am not. I just expected more depth, which made the former albums that grandiose. Yet still this is a masterpiece, a blessing for the overcrowded scene!
FYI 1: The Necrotic Manifesto comes with guest vocals by two sweet colleagues: Phlegeton of Godüs / Wormed / Banished From Inferno / Human Mincer / Wrong / …-fame on Excremental Veracity, and Vincent Bennett from The Acacia Strain on the Blast-Punk eruption Your Entitlement Means Nothing.
FYI 2: with Die Verzweiflung, Aborted slows down completely. This track, however, is at least as intense as the ultra-fast hymns we're used, but it is a remarkable song. I appreciate this effort.
FYI 3: some editions come with bonus material. The digital album includes the Sepultura-track Arise as bonus; the (limited) box set comes with a jewel-case CD as bonus, which includes three bonus tracks: new song Saprophytes, and two covers: Concubine by Converge, and Suffocation's Funeral Inception. The vinyl version, finally, will also include this three-track bonus-CD.