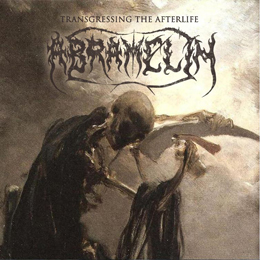 Album Title:
Transgressing The Afterlife – The Complete Recordings 1988-2002
In a series of anthologic compilations (there's also the one from Sweden's pre-Tiamat-formation Treblinka, for example; review to come up soon), Century Media come with Transgressing The Afterlife - The Complete Recordings 1988-2002. As the title of the compilation suggests, this release deals with the whole sonic history of any material ever (officially) done by Abramelin, one of Australia's greatest, and oldest, Death Metal bands. The band actually once started under the moniker of Acheron, but since there was a so-called top-band at the other side of the Earthly hemisphere…
The material, for your information, comes on CD in a three-disc edition, and in vinyl in an edition of five LP's.
The story starts in Melbourne, Australia, in 1988, under the name of Acheron. Acheron were founded by e.g. guitarist David Abbott and Simon Dower, vocalist / lyricist, as well as art / photography director of the band, and soon they got joined by guitar player Tim Aldridge (amongst others), whom some amongst you might remember as member of cult-act Disembowelment, or from his collaboration with Earth (evidently the Australian one). FYI: throughout the years, the band also consisted of former, current and session / guest / live members of acts like aforementioned Earth, Blood Duster, Akercocke, Hobbs' Angel Of Death or Steel Affliction. As Acheron, which did exist from 1988 till 1994, there are three mentioning-worthy releases, i.e. the self-released 1990-demo Eternal Suffering, the EP Deprived Of Afterlife, which was released via the French label Corpse Grinder Records (at that moment a more than interesting label with acts like Macabre End, Ceremonial Oath or Abhoth on its roster!!!), and a promotional demonstrational tape, simply called Promo 1992, also in self-release. The change of moniker into the current one, because of the American compatriots, took place in 1994, followed soon after by the recording, and release, of the band's 'break-through': the grandiose EP Transgression From Acheron, done via Dark Oceans Productions (which was a very small Australian label that existed at the end of the first half of the nineties). The self-called debut full length followed one year later on, in 1995 (label: the Australian Thrust, which I know from two releases by pre-Industro-Death act Infected only), and after a huge moment of relative silence, in 2000, Abramelin returned with the sophomore full length, called Deadspeak, which was originally made available via Shock Entertainment, a pro-Australian (Death) Metal label with 'huge' names like Sadistik Exekution, Manticore, Bulldozer or Alchemist on its (great) roster). At the very beginning of this millennium, the band finally, definitely, disbanded, and the rest is history. History 'till now, for major Century Media decided to compile and release (almost) all former material, officially released and previously unreleased, on a three-CD and/or five-LP format.
The first CD / LP opens with 1994's Transgression From Acheron, giving a first hint of Grindeath-ish old times' purity (even though 'purity' might seem somewhat unpure in productional and executional definition!). There's no doubt this material differs enormously from the scenes from, let's say, the U.S., Sweden, Germany and the U.K. (amongst others, evidently), even though there is a thematically correctly perfected performance and sound that characterises the whole sh*t without being smelly (though it does reek from putrefaction!). This mini-release, for those who care, was (and still is, stylistically-melancholically seen) of high potential. After those four tracks, the first part of Transgression … gets followed, by, respectively, a previously unreleased recording song (one of the best things the band did in the period!), and material from the band when they were active as Acheron: the 1992-promotape, Deprived From Afterlife (a splendid 7"EP, little more technically-skilled), and the demo-tape Eternal Suffering. I did / (still) do love Acheron enormously, for their honest expression of Extreme Metal. It was Doom and Grind, Death and even more Death, it was melodic craftsmanship and technical supremacy all together, but done with a flair that combined nihilism and futurism at once. Acheron succeeded to explore dimensions quasi-unexplored, but they did convince for sure.
The second part of this compilation opens with the self-called full length studio-debut from 1995 (which still is / was one of the best international Death Metal albums from that very same year!). It's a great album, especially viewed in that specific era, but I do / did miss something extra, something that did appear within some other scenes (and which did lift up those scenes above the mediocre average). Still this album was extremely enjoyable if you ware (and still are) a fan of uncompromising old school grinding Death Metal. What is appreciable: the addition of mega-down-tuned slowly-asphyxiating Doom-parts in the vein of timeless acts from Holland, Germany or Botswana (try to find the error and win your personal fifteen minutes of eternal un-fame). Though the average length of the songs was pretty lengthy (it was the case as well when they were still called Acheron), and in the perspective of the early-nineties era, this remark is pretty impressive and undeniable non-ignorable. Anyway, this second part goes on with some previously unreleased songs. This grotesquery starts with a cover by none else but Dead Can Dance's Cantara. What can I say? I am a Dead Can Dance-addict (their comeback-album belonged to …-, no, it does not matter, this review deals with other stuff), and I do appreciate the interpretation Abramelin did. It's not 'just a cover', but an own interpretation, and it is all right to do so, I guess. The next songs too, by the way, are splendid editions of non-compromising Doom-laden Death compositions that have not been released officially before on CD. Yet again, the long average duration cannot bother / bore at all if you are into the most morbid kind of old styled Death Metalurgy. My only 'problem' is the inferior sound quality, but as specifically mentioned, it is my 'only' problem, so I do not really and-so-on…
The third disc opens with Deadspeak, Abramelin's album that was way more technical and melodic (with paying attention to the enormous differentiation one must make in between 'difference', 'melody', and 'self-interpretation'!). this album came with rather tremolo-ish guitar leads and solos, and less semi-grooving rhythms (still exhaling a specific doom-core, whatsoever!). This third disc comes with some live-recorded material, but unfortunately it is not of the most attractive kind: bad sound quality, no exhaustive live-interaction with the audience, and so on... The performance was all right, but the sound simply sucks. This stuff might be the only officially recorded Abramelin-live material (the performance is superb, believe me), but the production smells like cheesy feet.
Almost four hours of Old School Death / Doom-Death Metal Supremacy with the purest Old School atmosphere and a marvellous timeless sound / approach: Transgressing The Afterlife …: it is a non-deniable recommendation!