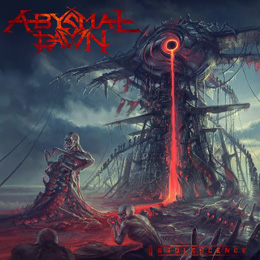 I have to admit that I have never been that crazy about Abysmal Dawn, but throughout the years the evolution wasn't but in a positive direction. I made a review for all former albums (From Ashes, 2006 – actually it was the 2012's re-release that I reviewed; posted within the second Relapse-special on July 23rd 2012 / Programmed To Consume, 2008; apparently this review isn't available anymore / Leveling The Plane Of Existence, 2011 – see update February 18th 2011). Original member and frontman Charles Elliott (vocals and guitars) once again worked with drummer Scott Fuller and newly recruited instrumentalists Eliseo Garcia (bass) and Andy Nelson (guitars), and this new material was produced by Mike Bear, and mixed + mastered by John Haddad (both of them did work with Abysmal Dawn before).
Obsolescence lasts for forty eight minutes and continues the path from the past. It means a comparable approach, as well as an improved execution / song writing. And when it some to the improvement, well, than I need to say that this album marks an enormous step forward! As from opening track Human Obsolescence, Abysmal Dawn show their enormous progression. The basic elements are the same: fast and fierce yet pretty technical riffing, monstrous grunts, a heavy-as-f*ck rhythm section, spooky melodies and a massive sound… But the song writing is much, much better than ever before. The songs sound more mature and professional (read: less average), and also the performance sounds better than before. The execution is surgically precise, even more than ever before, believe me.
And with a track like By My Demons, Abysmal Dawn even explore dimensions untrodden before. And I need to say that they do it with glory! Or to keep it short: if you like the former Abysmal Dawn albums, then you will adore this one. If you didn't like those older ones, then you will still appreciate this new epos. That's a promise!
Just for your information, and in order to give you the right info: this time guest appearances were done by none else but Spawn Of Possession / Defeated Sanity / Necrophagist / Obscura / Daemon's Gate / …- string-man Christian Münzner (solo on Perfecting Slavery) and ex-Death Bobby Koelbe (Devouring The Essence Of God). No matter if you like the American, Canadian, Dutch, Polish, Belgian, Italian, German or, for my part, Mauritanian scene; if you adore technically well-executed and brutal yet ingeniously melodious Death Metal, then you might give this material at least a chance.