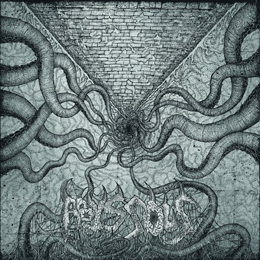 Another excellent release via Germany's top-label Iron Bonehead in quite an impressing series that we did receive at our headquarters, is the extended vinyl-edition of 2012's …Smouldering demo by Chemnitz, Saxony, Germany-based trio Abyssous. The band consists of two members who are active in the Death Metal formation Heretic (with the skull-crushing EP Ascend released at the very end of last year as ultimate sonic triumph) (bass player / vocalist Deathtrader and guitarist Jonty Lava) and a former member of Old School Speed / Thrash act Chörnyj Woron (drummer Assassor). The LP-release is limited to 500 copies only, for your necessary information… It comes with new artwork (I do like the cover for its simplicity combined with depth) and the whole has been remastered at Temple Of Disharmony with Impending Doom's Patrick W. Engel, one of the most notorious masters and Metal-musicians from German soil. (think: Soulgate's Dawn, Polymorph, Mourning Ends, Heaven Shall Burn, Desaster, Beyond and tens of tens of tens of others).
The …Smouldering LP brings the sweet lullabies from the same-called demo and four previously unreleased, new tracks in the very same vein. It clocks nearly half an hour and opens with an ominous, suffocating intro (entitled Entering The Cave; do you dare to join me?...). but as from Abominations, Abyssous rule! The trio's Death Metal is very much based on the sounds of the earliest years, going for the production, song structures, performance and atmosphere. It's a morbid expression of the Old School Metal-of-Death tradition, with a huge variety in speed (from doomy over mid-tempo to blasting fast), with a subtle equilibrium in between aggression and melody. The whole is extremely Thrash-edged, and even has some subtle links to the Black Metal scene (but then I am especially referring to the sphere, lyrics and sound) (and with the extremely slow-paced riffs on Invocation, for example, one cannot ignore a certain comparison with Samael's earliest works, can we?).
As you might have guessed, it is a typical Iron Bonehead-release, and it gets translated as well in the fabulous quality of the whole package. Original it is not (at all). Majestic it is indeed!
One remark: the production might have been polished up a little…