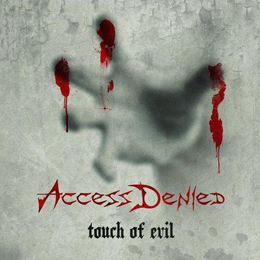 Release Date:
Tuesday, November 6, 2012
Touch Of Evil is the second released album from the Polish female fronted heavy metal band named "Access Denied". The album was actually a self-released record in Poland somewhere in 2011. But after the band got signed to Pitch Black Records, the label decided to re-release the album worldwide in November 2012. The band was formed in 2003, Access Denied has drawn good acclaim and built a strong fan base in their homeland through shows, early demos, and their debut album of 2009.
So basically we have a "fairly young female fronted classic heavy metal band's re-released album" here. Quite a mouth full, but it absolutely doesn't give us a reason to complain. Although it is a re-release witch in my opinion could have been done better. For example the guitar sounds could have been done a lot better (considering this is a re-release). But to be honest their music is just so good  and fun to listen to. Yes it's female fronted, but it doesn't sound like a gothic band female singer or whatever. Just classic heavy metal at its best.