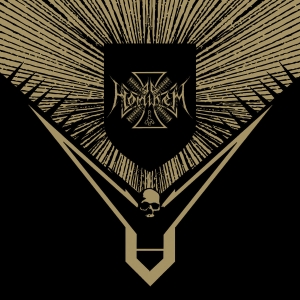 Once started, two decades ago, as a solo-outfit for Kaiser Wodhanaz, Ad Hominem evolved into a 'real' band in the meantime, nowadays residing in Italy. After several full lengths and some interesting splits, the band signed to one of the oldest and most prominent Extreme Metal labels from France, Osmose Productions. This co-operation became reality through the release of Antitheist in 2015. Via the very same label, Ad Hominem return with Napalm For All, another expression of peace and love, of our supremacy and belief in monotheism, multi-culturalism, democracy and tolerance… NOT!!!
For almost forty minutes, Ad Hominem bring you a message of brothership through ten promising titles. Helped out this time by several studio session musicians, the Kaiser did record this newest piece to be released on compact disc, vinyl and tape, as well via the modern digital sources, evidently. And the song titles indeed spread the message of love and passion: You Are My Slut, Vatican Gay, Goatfucker, Bomb The Earth, … Indeed, do not expect respect or dignity!
The sonic embodiment on Napalm For All is at least as promising as the title of the album and its individual song titles. In the vein of their latest recordings, Ad Hominem deliver a nasty, gruesome, filthy, intolerant and hateful form of blackened Hate Metal, discordant and raw, ugly and warlike. The sound is a first indicator. The production is rough-edged and mechanical, with an unpolished yet correctly balanced mix / mastering. It has that chainsaw-alike sound, not that uncommon in France. This production goes very well with the varying nastiness that is called Napalm For All. That variety goes for the speed, amongst other elements. Ad Hominem somehow succeed, easily, to differ the whole of the time in tempo. Faster eruptions get interspersed by doomed decelerations, before exploding once again into excerpts of whirlwind-like brutality. And that's quite a natural process, you know, without forced changes or imbecile breaks. No, the organic evolution surely is of a masterly high maturity.
When it comes to the tracks itself, well, that might be a point of discussion. Ad Hominem sort of created their own approach throughout the years. It has some industrial-apocalyptic elements, quite some Thrash-edged aspects, and even some hints of Blaspheme Death Metal Supremacy referring to the Swedish scene. And of course, there's the dissonant approach that characterises many bands from France, Norway, Greece or Canada (or Burkina Faso, for what it matters…). And one might dislike the intensity, for it might be somewhat too exaggerated. I partly can understand it. But then again, do not underestimate the fact that this act is mainly a creation of one single (un)human being, with a huge creativity going on, and permanently evolving in a positive manner – at least, that's my (mostly important) opinion. The full experience, on high volume, makes you move your torso and head constantly, horns up, looking grim, kicking asses of infantile would-be f*ckheads around. Napalm For All is a timeless masterpiece with universal allure, and nothing less than that. Joy to the world! Some napalm for you, some for them, napalm to ALL!!!