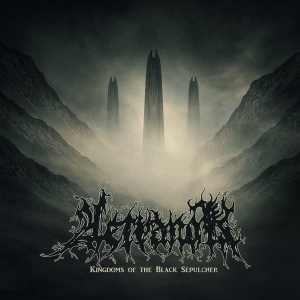 Album Title:
Kingdoms Of The Black Sepulcher
From the bleak, Arctic soil of New Mexico hail Aetranok, a quintet that started earlier this decade. At the very beginning of 2014, the band released a first album (on compact disc), Grande Invokation, via Colorado-based Death Portal Studio, re-released a couple of months later, also on CD and digitally, through Senseless Life Records from the U.K. (nowadays known as Sepulchral Silence). Then it took quite some time, but four years after their debut, and after some changes in line-up, Aetranok return with their sophomore album, Kingdoms Of The Black Sepulcher. This one gets released digitally and on CD in an edition of 500 copies via Belarussian Symbol Of Domination Productions (sister-label of Satanath Records) and, once again, Death Portal Studio. The CD-edition (jewel case) comes with a twelve-page booklet and the disc in so-called vinyl-style.
Kingdoms Of The Black Sepulcher was recorded at the Aetherial Studios in the band's home country. The line-up on this album is: original members and guitar players Meretrix (aka Draka) and Apophis (also the main music writer and lyricist), keyboardist Tenebros, bass player þoros, and new drummer Xamoth (whom you might know from e.g. Itnotk, a band that also includes þoros, or Necronaunce and Music Distroyer [no fault, band's name written correctly]).
What these guys bring is a very, and I mean VERY, intense, harsh and devastating form of so-called Cosmic Symphonic Black Metal. The pretty lengthy songs (the compositions last in between five and seven minutes) are extremely fast and energetic, strengthened by the artillery drum salvos especially. Oh my beloveth princess of the Underworld, those militant drum patterns crush and destroy. No mercy, just chopping fierceness without remorse. But that's not the only thing that makes this recording so 'intense', evidently. When talking about the strings, it's a surprising fact to notice, at the same time, a high level of melodicity at the one hand, and an enormous pushing rhythm section at the other hand. The lead parts create a wave of epic and astral elegance, while those melodies are forceful supported by a firm, powerful combination of rhythm guitars and bass lines. All this gets joined by several layers of synths; sometimes taking the lead, then again subtly darkening the whole concept at the background. And last but not least, you have a huge variety on vocals. Grunts and growls, screams, yells and so on, but the better part is simply malicious and tormented. The main vocals breath sulphur, or are like a sweet soundtrack for veins being cut slowly by a rusty blade. Those who remember Vintersemestre or those who are trusted with DUX will know what I mean. Furthermore: (church) bells and chimes, droning noises, hints of Lovecraftian horror, and so on…
The result is atmospheric, yet from a very frightening kind, and at the same time enormously technically written and executed too. The whole maintains a chilly and breath-taking morbidity, an evil grimness lurking beyond. This goes for the passages with synths especially, yet also for some of the blasting outbursts.
There's one thing that deeply disappoint me, and that's the sound. The quality is way beneath acceptance, and sometimes the mix fails to concentrate or accentuate important, necessary details. It's muddy and messy, and way too inconsistent. A pity. But that's only one aspect (though an important one), because the song writing and performance show these guys' enthusiasm to rape the listeners' eardrums with a sardonic, sadistic and sarcastic pleasure. And that is, at the end, what it all is about: Black Metal!!! Besides, in an industrialised Black Noise-oriented lullaby like Liber Khao Ad Veritas, it might be a surplus!
I guess it will be appreciated by everyone who likes stuff in between Sirius, Suffering Souls, Nocturnal Majesty, Limbonic Art, Obsidian Gate, Darkspace, Evil Palace and the likes…