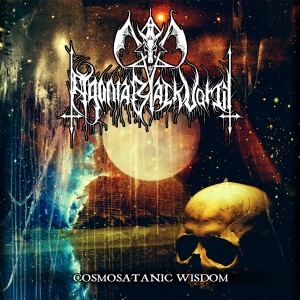 Agonia Black Vomit are dwelling around for about a decade. This duo, being Marco 'Pesten' Bomboi (also in e.g. Tundra) and Marco 'Agonia' Rosati (think Zedher / Zedher's Coffin or Nailed God), created a first album, called Satanic Black Vomit, which was released in 2011 via Mexico's Black Cult Records (hey guys, are you still around?). After some silence, Slava Satan Records, co-founded by Pesten, released a four-way split which included three other Italian projects (amongst which Tundra), though this one being extremely limited. Once again three silent years passed by, but Pesten and Agonia now return, assisted by colleague Maleun, with their second full length studio album, intelligently called Cosmosatanic Wisdom. The compact disc gets released in an edition of 500 copies via, once again, an unholy collaboration of Symbol Of Domination Productions and MurdHer Records. It comes with a four-page booklet, including the lyrics at the inside, and very bombastic, expressive artwork that surely fits perfectly to the album's title.
Cosmosatanic Wisdom was initially recorded in 2015, but apparently it took some time… Never mind, here we have it. The album, being a seven-tracker that lasts for forty-two minutes, is very rich, multi-faceted and orchestral in sound and execution, once again fitting perfectly to the album's title and the artwork, as mentioned in the former paragraph. There are no drums – it's drum programming being used. In most cases, when a project uses a drum computer, the percussions sound forced, mechanical, even imbecile. In Agonia Black Vomit's case, then again, that's not the case. On the contrary; most of the time, the drum patterns sound organic and 'real'. There are, of course, blasting-fast excerpts, but they lack exaggeration, and that's nothing but a positive aspect. The interplay is, as said, quite 'rich' and overwhelming, with several layers of synths, basses and electric guitars. The material is very melodic and dramatic, even theatrical in essence, with many changes in tempo and structure, and expresses an astral atmosphere with an epic attitude. Gloomy tremolo guitar melodies and sharp-edged solos are multio, supported and uplifted by pounding, deep-toned bass lines and the aforementioned drum programming. The keyboards are permanently present, yet in a shifting performance. Sometimes the keyboards take a leading role, presenting a cosmic or symphonic passage, then again they act as a fine entity on the background, supporting the string-based heaviness. For sure they often define the astral touch and occult approach of the band. Vocal-wise, screamer Agonia delves into the darkest pits of his being. His voice is raw, icy, gurgling, with some spoken phrases, cleaner passages and choirs.
The production is rough and unpolished, with a great mixture - no irritating effect of the programming and a fine equilibrium of all instruments involved. Nothing more to add on this matter…
There is one single remark for my concern, and that's a lack of adventure. Seen the artwork and the concept, I was expecting an audacious, temerarious album. To a certain extent, that's true, but not as intense and intriguingly as I might have hoped for. Don't get me wrong: I have not been bored one single time by Cosmosatanic Wisdom, and a couple of songs (or chapters within a composition) truly impress me. But the result somehow leaves me craving for something more to come – but it never came.