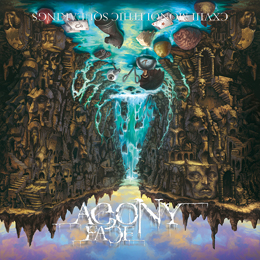 Release Date:
Monday, November 18, 2013
Agony Face are an Italian band that were formed in 2006 by Riccardo Ricotti (g), Alessandro Uberti (g) and Davide Guarinoni (v). Throughout the years, the band found a stable line-up (which also include drummer Alessandro Bassi and bass player Mirko Montrasio), and after a search for an own sound (starting after the 2007 demonstrational mini-CD Surrealistic), they surprised the Death Metal worlds (or at least a part of it) with the full length CXVIII Monolithic Squeakings (via On Dead Sound). The band refined their sound even more, and after signing to Italian top-label My Kingdom Music, the quintet decided to release an album that goes even further than the former one.
Indeed, CLX Stormy Quibblings goes further where CXVIII Monolithic Squeakings ended. The album brings an eclectic mixture of modern and technical Death Metal with a progressive edge. The term 'surrealistic', cf. the band's 2007-demo, is not a stranger at all for this stuff sounds experimental and surreal in several aural aspects. Beware: it is not an Avant-garde effort with schizophrenic or jazzy nonsense. This material brings the melodic / psychedelic kind of Tech-Death; consider it a modern version of Death, Cynic, Pestilence or Atheist rather than an Italian answer to Deus Invictus, Stagnant Waters, Iwrestledabearonce or Carnival Coal. It's like Ephel Duath paying tribute to Decrepit Birth, if you know what I mean.
Every single track is filled with unusual breaks and weird hooks, lots changes in tempo and attitude, and it sounds like an experiment, a challenge for ear and mind. Despite its ultra-modern approach, this album sort of maintains a tribute-sphere to Old Times, which must be one of the most positive elements that does distinct this band from many same-minded colleagues. And finally I cannot but mention the production, which offers a massive yet mostly collaborative sound.