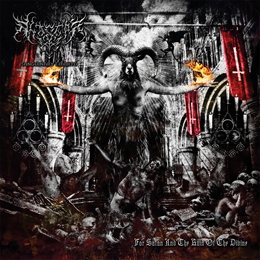 Album Title:
For Satan And The Ruin Of The Divine
Release Date:
Wednesday, April 22, 2015
That's one of the many things I like about Satanath Records: they are so diverse on several matters: a huge stylistic roster (from Grindcore over Death Metal to Black Metal and Thrash, as well as Ambient, Post-Rock etc.). But their open-mindedness goes further, in search of projects and bands from all over the world. This time we have to cope with a release from a band from Costa Rica, of all places! But do not expect white-sandy beaches, sweet cocktails and happy-tuned music – but you surely wouldn't expect me to write about such thing…
Abrahkkan (vomit on the Nazarene's face), Srôth Saraïel (hammers nailing the bastard), Aeon (orchestral march towards Golgotha), Braexes Malaphar (six pointed whip flagellation) and Saaht Noszfeuhl (dead Christ's tomb echoes) [sorry, but it does put a smile on my face] recorded this album at Abrahkkan's home studio; the latter taking care of the mix and mastering too. And seen the artwork, song titles and members' nicknames, Alastor Sanguinary Embryo aren't here to spread the word of heavenly peace. Or am I mistaken?
Actually, I am not mistaken, for this band brings almost one hour of fast, rhythmic, melodic and symphonic Black Metal. Symphonic Black Metal indeed, yet of the traditional kind. And here's my first concern: the production. Actually, the mix is so good that I do not like it anymore. A lapsus, a contradictio in terminis, I know, but I'll explain why. Every detail is clearly present. I adore the fact that one can easily enjoy the bass lines, for example, throughout the whole album. So, what's the problem? Well, but I need to say that isn't but my personal point of view, it's that this kind of stuff needs rawness, unpolished and arrogant roughness, in order to convince. This clinical sound does not reach the result I am searching for, and that's a pity. It's like the whole recording process has gone through the hands of some Popular Music producer, trying to hide possible failures by an over-rated, exaggerated sound. It might not be the case throughout the whole album, but it surely gives a wrong impression, and that's bad! Then again, with pieces like Invocation To Satan, this Evol-influenced aural summoning gets strengthened by such sound…
A second concern is the predictability of the material. As said before: 'Symphonic Black Metal of the traditional kind', which means a lack of own-faced intellect. Sometimes I do not care about not being renewing, and I never search for 'originality' in its most pure definition. But when an album lacks of inspiration along with nothing but average compositions and a minimal performance, I don't feel like being happy (as if…). No, it's not that bad right here (forgive me if you thought so), but let's admit: where's the thrilling pepper-in-the-arse, the necessary waw-effect?
Facts: little hysterical yet intensive screams, fast and energetic rhythms, harmonious leads and several atmospheric, darkening keyboard lines. It's objective to say so, but it's the truth. Don't forget to mention the variation in tempo, as well as the focus on tradition that gets injected by subtle elements from modernism (like the electronic excerpts in Thick Darkness Below The Feet Of The Crucified). You're welcome…
…and so on… I guess these guys have the best intentions to pay tribute to the scene. When it comes to studio-sound-wise elements, they might have reached quite a high standard (probably way too high, in disadvantage of the general result), and that's quite remarkable for a country we usually do not compare with Extreme Metal. But the other side of this story is somewhat sad, disappointing and even dull, for it leaves me hungry, unsatisfied, full of questions and cravings. The balance in between joy and irritation is quite difficult for reviewers, and since I am one of them… But I won't be too severe, so my conclusion is: give this band a chance, appreciate the intelligence of the label to offer this band such opportunity, and f*ck yourself if you do not even try to consider my recommendation. Everyone knows it's fake, but isn't that the majority nowadays? And, no skip it, just give this a try and decide for yourself. Stylistically incorrect, performance-wise all right…