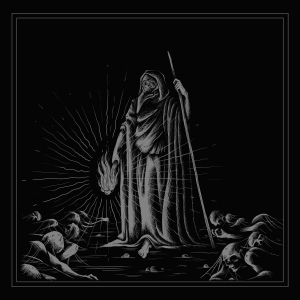 Alcahest are a new outfit from French soil, a mysterious duo consisting of the (human?) beings M (who wrote and performed all instrumental contributions) and J (lyrics and voices, and arrangements). The duo finished a first mini-album in Spring 2021, with Drakkar Productions taking care of this four-track EP. Besides a digital version, there is a physical one too, being a digi-sleeve edition, coming with quite cool cover-artwork (I apologize that I couldn't find out where that stunning art came from, for I didn't receive a physical promo-copy).
The untitled Alcahest EP clocks almost twenty minutes (four titles, as mentioned in the former paragraph), painting, and I will quote a piece of the band's email, a universe  [that is] just dark and cold. Or: the result is a combination of melody and rage, which gets brought with respect of the French scene's tradition. Well, what can I add, or not?
Well, as from the opening track Délivrance you can analyze what this project stands for. It's a very melodic-oriented approach, built around ingenious tremolo riffs, hypnotic melodies and orchestral structures, including a pounding rhythm section, icy voices, explicit solos and quite some variation on different levels.
First a small thing about the vocals. Well, J has a distinctive vocal timbre, not very 'traditional', if you want to, yet rather hoarse, throaty, raspy and rusty. It has a certain variety, with harsher shouts, wretched yelling and sore growls. Somehow this goes pretty well with the French texts; which, by the way, are very understandable. J somehow succeeds to pronounce quite decently – okay, you do have to understand some French, evidently – but this seems to work quite well.
As said, the musical / instrumental side is based on melodic structures at first. The guitar-lines act as the spine, the core, the heart of the compositions, painting landscapes of darkened and/or dreamlike atmospheres. More than once, the result has a specific mesmerizing aspect, especially when led by the floating trem-based leads. At the same time, the whole rhythm-section acts as an undeniably supportive strength. The rhythm guitars, drums / percussions, and bass-lines lift the whole up to higher dimensions. Of course, the well-balanced sound-quality helps to promote, to support this fine equilibrium. The production and mix, well, there's nothing wrong with it. It still has a rough-edged sharpness for sure, without fading away in a senseless mish-mash of sound, and it has a certain decency too, yet lacking any theatrical over-production.
I did mention 'variation' before. It goes for many things, yet still the whole EP is a very coherently sounding experience too. But take the drum-patterns, for example – sometimes blasting and thundering with devastating double-bass assaults and pure cymbal-rape, then again exploring the limitations (and trespassing them) of martial elegance, or playing their own game as part of the whole sensation. The subtle use of synths too has been done with a precise knowledge of momentary necessity. Keyboards are barely used, yet at the right moments they add that flavour of intriguing atmosphere when it seems to be needed. The very same goes as well for the harmony vocals (in Le Vide) or the few acoustic intermezzos.
Another aspect of that 'variety' is the tempo and the song-structures, which do permanently change. The better part is quite up-tempo, with an epic attitude, from persuasive to heroic, yet with a couple of slower excerpts too, and several explicit outbursts at the other hand. This EP is not a progressive one, so do not expect sudden breaks or avantgarde experiences; but the diversification gives the whole sonic adventure that level of wonder and marvel.
Anyway, I do impatiently await to experience / enjoy the upcoming full-length. Until that time, this untitled EP will suffice. Fans of atmospheric, melodic and traditional Black Metal with quite some variation will surely follow my enthusiasm!
https://drakkar-productions-official.bandcamp.com/album/alcahest-promo
https://drakkar666.com/store/product/8066
https://alcahestband.bandcamp.com/album/alcahest