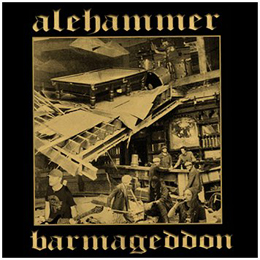 Release Date:
Tuesday, October 15, 2013
Alehammer are a combo with former and / or current members from e.g. Impulse Manslaughter, Prophecy Of Doom, Extinction Of Mankind and Hellkrusher. They released a 10"EP in 2007, called Mine's A Pint Of Crust (via Italy's Agipunk, with acts like Prophecy Of Doom and Children Of Technology on its roster), and in 2009 there was a split with Sweden's Tyrant, also via this Agipunk-label. After an irritating period of silence, the band finally returns with their first studio record in four years, Barmageddon, which lasts for twenty one minutes.
The six tracks on Barmageddon go strongly on in the vein of the former stuff. The album mixes crusty Punk with thrashing Metal, based on rather simplistic and primitive basics (another eighties-tribute…). It's like a bulldozer with spikes giving you a massage while being tied up. Love it? The tempo varies a little, from slow over mid-tempo to pretty fast, but utter speed isn't the band's main goal. Brutality, on the contrary, is.
The production, however, is very inferior, with drums sounding way too cheap and hollow, and riffs that get lost in the foggy thickness of the final mix. That's pretty sad and even insulting, for this material could have been accepted with more conviction if only the studio work was done with more professionalism.
Influenced by, and therefore recommended to fans of: Discharge, Amebix, Slaughter, Venom, Hellhammer, Extinction Of Mankind and Hellbastard.