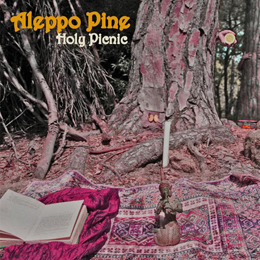 Release Date:
Friday, September 13, 2013
Our dearest Concreteweb's headquarters did recently receive a cd-r / mp3 with seven Folk-oriented albums. As a matter of fact, Strawberry Oracle Promotions will give some renewed attention to seven bands / projects within the Folk scene by having this material put on the foreground again. It deals with both recent as well as pretty old recordings, and in order to give this stuff a boost, I will be so kind to have it reviewed.
This review deals with Holy Picnic by the Spanish project Aleppo Pine. The moniker has nothing to do with the current problems in Syria, but they are named after a kind of tree; indeed, extremely interesting it is, is it not?…
From the seven releases via the promo-label Strawberry Oracle, this is the only one coming from the Spanish label Alone Records (five out of seven are Merlin's Nose-products, for your information).
Anyway, the band around Enric Chalaux released this album in 2010. In mean time, they did record a second album as well, Farewell Shelter (it will be released later this year), but the following letters (which will form words, and the words will form phrases, and these phrases will end up in a review) deal with that debut, funnily entitled Holy Picnic. It was produced, mastered, engineered and mixed by Roger Rodés (Beachwood Sparks, The Posies) at MG57 Studios and consists of fifteen tracks.
Since the members are obsessed fans of everything that has to do with the Sixties, their Music too is heavily inspired by that era. Holy Picnic is a collection of Sixties-influenced Folk songs, done by instruments like, of course, acoustic guitars, yet also semi-acoustic ones, sitar, bass, percussions in different forms, flutes, contrabass (I think), theremin, organ, table etc. It sounds like a mixture of Natural Impressions, Psychedelics, Sixties Rock, Hippie Folk and primal un-Pop Music. The vocals are sweet, for combining male and female voices through a web of happy and ritual melodies. It holds the middle in between 'oldies' like The Incredible String Band, Amber (one of the releases on this sampler, by the way, is an Amber-anthology, and it will be reviewed, and posted, very soon), Tyrannosaurus Rex, Fairport Convention and Shagrat. There are even hints of Velvet Underground, The Beatles, Jethro Tull and Sharron Kraus. The main part is based on acoustic singer-songwriter-alike stuff, but Aleppo Pine injects their songs with a not-so-modest dose of psychedelic, brain-intoxicating spheres. Sometimes it sounds rather trippy, then again funky, poppy, progressive or even bluesy.
Aleppo Pine's Holy Picnic is not the usual stuff you will find being reviewed on Concreteweb, but there will be a couple of readers amongst you, my dear psychedelicists, that might appreciate this spacy journey.